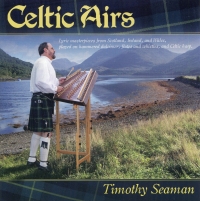 For the past year, I have had the pleasure to become involved in Timothy Seaman's newest recording project Celtic Airs. Watching and participating in its evolution was a joy. I now have a sense of awe as I listen to the levels of complexity within the final master. This CD offers lyrical Celtic treasures in which various accompanying instruments are woven in and out of each track, creating a tapestry of refreshingly new arrangements. Not only are there several well known favorites, but Timothy has researched and introduced Welsh, Irish and Scottish melodies which are not typically recorded or included on other CDs. Using his primary instrument, an extended range Dusty Strings D600 hammered dulcimer, Timothy's pianistic style of separated hands has become his own trademark sound, allowing for continuous key changes which move each selection in well planned and thought out progression. The album creatively uses 17 different keys which take the airs on a poetic journey away from more traditional sounds which one typically hears. Timothy brings into play more silver flute than any previous album but adds his collection of bamboo flutes and whistles. A multi-instrumentalist, Timothy also plays mountain dulcimer, melodica, bowed and plucked psalteries, guitar, and bodhran with other percussion to accompany rhythmical and driving beats - often of two against three. Within the album are other talented musicians from the Tidewater Virginia area. Ardie Boggs and I both play Celtic harp and are featured on several tracks. Robin Jester's piano introduces a contemporary sound on two Welsh hymns. Other musicians include Bill Gurley on fiddle, Henry Smith on keyboards and bass, Peter Budnikas on Highland pipes, and Howard Nilsen on accordion. Timothy's playing is filled with dramatic emotion making this CD a definite "must have" addition to anyone's collection.
--- Ann Robinson, Celtic Harp, Hammered and Bowed Duclimer, Dulcimer Players News, Winter 2011
---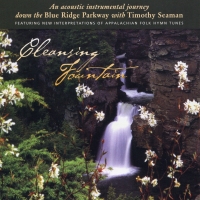 Cleansing Fountain --- Subtitled "An Acoustic Instrumental Journey Down the Blue Ridge Parkway," this new release of folk hymn tunes from Timothy Seaman is a beautiful meditation on place, journey, and sound.
I'm immediately struck by the instrumentation, not only the number of instruments used on the recording, but the overall harmony achieved by the blend of hammered dulcimer, mountain dulcimer, flutes, autoharp, bowed psaltery, guitar, banjo, percussion, and others. Even the human voice comes into play here, used purely as a wordless instrument, and adds one more beautiful dimension.
Cleansing Fountain is the kind of recording that can create a relaxing atmosphere from start to finish, while also giving the close listener an abundance of goodies to enjoy. Timothy's intricate weave of instruments, melodies, harmonies, and expert arrangements is masterful, imaginative, and probably one of the best products of its kind to be found in the Virginia roadside gift shops.
The medley "Journeying" exemplifies the broad use of instrumentation on this recording as it begins with bowed psaltery, transitions to mountain dulcimer, and introduces the hammered dulcimer, along with a very tasteful jaw harp. The hammered dulcimer takes the lead nearly halfway through with the help of some other percussion. As the medley winds its way towards the end, we've passed through several musical landscapes on the journey, and what a pleasant trip!
--- Christie Burns, Dulcimer Players News, Spring 2008
---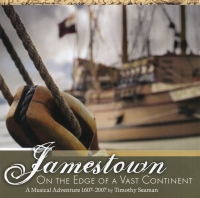 Speaking of sound tracks, hammered dulcimer player Timothy Seaman has made a cottage industry out of producing CDs with wide screen themes that celebrate the pioneer history of his home state of Virginia. Jamestown: On the Edge of a Vast Continent is his latest and commemorates the 400th anniversary of the Jamestown settlement. Tim plays dulcimer, flutes, psalteries, and numerous other instruments and focuses on the 17th century with arrangements of pieces like "Old Hundredth," "Tallis Canon," "Scarborough Fair," and "The Water Is Wide." He has guest appearances by Early Music specialists from the College of William and Mary in authentic period pieces and he includes new compositions including "A New World Overture" and flute improvisations for Powhatan and Pocahontas. He also includes three well-known spirituals, some on exclusively African instruments. Put it all together, stir it up a little and your imagination easily brings the cultures of Europe, North America and Africa together to honor the Jamestown settlement as a crucially important part of our American heritage. Tim's musicianship is perfection itself, and the ensemble's (which includes Ardie Boggs, Thomas Marshall, Ruth Griffioen, Timothy Olbrych, and Henry Smith) playing on hammered and plucked dulcimers, flutes of many kinds, harpsichord, harp, lute, psaltery, guitar, kalimba and percussion is drop dead superb. But his lush arrangements and his ability to paint pictures of the settlement in your mind are the real treats.
--- Neal Walters, Dulcimer Players News, Nov. 2006
---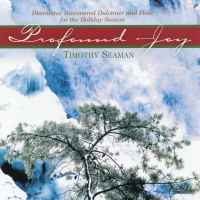 Profound Joy…is a holiday CD with over an hour of super hammered dulcimer music suitable for the Christmas season. It's a mixture of the familiar and the obscure, with Tim playing flute, bamboo flute, bowed and plucked psaltery, guitars, keyboard, melodica, mountain dulcimer and percussion in addition to the hammered dulcimer. The music is wonderful, the graphic design is terrific and the mood invoked is peaceful and tranquil --- like snow blanketing a forest on Christmas morning. Tim's playing displays equal amounts of energy, nuance and skill. The booklet notes are both informative and inspiring. Tunes include "The Holly and the Ivy," "How Shall I Fitly Meet Thee," "Morning's Climb Through Ponderosas/The Philmont Hymn," and "Hey, Ho, Nobody Home."
--- Neal Walters, Dulcimer Players News, Nov. 2005
---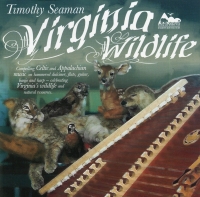 Timothy Seaman is Virginia's definitive wildlife musician. This acoustic soloist masterfully blends dulcimers, drums and a variety of other instruments such as turkey whelpers, whistles, and Native American rattles to create compelling sounds of the Virginia wilds. Talented banjo player Dwight Diller and other musicians often join in to complement Tim's unique thythmic flow. His newest CD entitled Virginia Wildlife is one of the most soulful and sensuous selections this writer has ever heard. Celtic and Appalachian music features Virginia wildlife themes. Many of Tim's selections reflect a rich, upscale flavor and sometimes an impressionistic style. He enjoys changing keys, chords and instruments to vary the emotional content of his songs. This rare and remarkable collection of folk music will make a cherished holiday gift.
--- Emily Grey, Virginia Wildlife magazine, Dec. 2004
---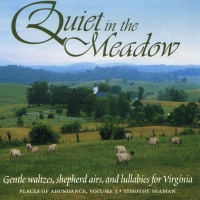 Timothy Seaman has a new release in his series titled "Places of Abundance" that once again celebrates his adopted home state of Virginia. Quiet in the Meadow is the third in the series that started with tributes to Shenandoah National Park and Williamsburg. Timothy plays the hammered dulcimer, a large collection of flutes and whistles, bowed and plucked psalteries, melodica and guitar on a variety of "gentle waltzes, shepherd airs and lullabies for Virginia." He is accompanied by Henry Smith on bass; Jean Seaman on vocals; Phillip Skeens on guitar; Paulette Murphy and Millie Becker on piano; and Ardie Boggs on Celtic harp. The program is a judicious and contemplative mixture of Celtic standards and Seaman originals. Timothy's playing is expressive and controlled with just that touch of elegance that this reflective music deserves. The arrangements are well thought out and delightfully executed, flowing seamlessly from dulcimer to flute to keyboards or guitar and back again like watching butterflies flit from flower to flower or a couple of kites flying on a windy day.
This is a recording to savor when you want something soothing, relaxing and intelligent. Tim's dulcimer playing is impeccable as always and his flute playing is almost mesmerizing. His performance of "Taps" is exquisite. Phil Skeens adds some nice touches on guitar, particularly on "Si Bheag, Si Mhor" and Ardie Boggs plays wonderfully on Celtic harp. Other highlights include "Lullaby," "Jock O'Hazeldean," "Sleep, My Beloved," "Laudate Dominum" and "Westphalia Waltz." There are seventeen cuts in all and every one is a gem.
--- Neal Walters, Dulcimer Players News, Feb. 2001
---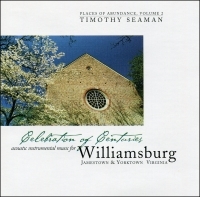 Tim Seaman's new release Celebration of Centuries features fresh arrangements of folk and Baroque pieces as well as Seaman originals inspired by the history and geography of Virginia's Historic Triangle. The music truly reflects the rich heritage of the area and Tim's dulcimer playing is perfectly suited to the subject matter. He is very smooth and relaxing on the slower numbers and his hammers dance over the strings as he picks up speed, making wonderful use of dynamics. The arrangements feature Tim's flute and guitar playing as well as his dulcimer. He also receives stellar support from Phillip Skeens on guitar, Henry Smith on bass, keyboard and percussion, and others.
--- Neal Walters, Dulcimer Players News, Fall 1999
---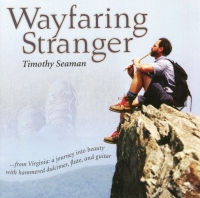 Glenn Gould is reputed to have said that when he made recordings, he was playing for one listener. Indeed, most classical music lovers do listen to their favorite recordings in solitude, or at least in silent company. Gould found his natural audience by imagining a single listener and miking the piano so that that listener could feel he was sitting right inside the instrument.
The best recordings of all genres---classical, folk, jazz, etc.---are made with a sense of "the natural audience," and strive to create a connection with that audience, which, I believe, is always small. Not "all you folks out there in radio-land," but the solitary listener, or the family, or the gathering of friends. How many people buy recordings they intend to share with more than a roomful of people?
Timothy Seaman, of Williamsburg, VA, has made a soul-to-soul recording, Wayfaring Stranger, in which he plays hammered dulcimer, flutes and pennywhistles, guitar, bowed psaltery, melodica and keyboard. Though he is multi-tracking on every cut, there is only one voice, Timothy's own. All of the selections are highly lyrical, like "The Skye Boat Song," "The Ash Grove," "The Londonderry Air," "A Red, Red Rose," "Amazing Grace," and "Jesu, Meine Freude." Such tunes lend themselves to very personal expression, and Timothy has explored each with an inventive spirit, changing rhythmic backup ideas with each repetition, changing melody instruments, dropping voices, adding voices, changing tempo and energy-level, adding improvised introductions and codas. The recording is deeply relaxing---the day I received it, I sat down to the first strains of "Samhradh, Samhradh" and didn't get up til it was all over---but so highly detailed in its conception and performance that the listener's mind is always engaged, always surprised by the changes of tone-color and intensity which roll in like ocean waves.
--- Carrie Crompton, Dulcimer Players News, Winter 1996
---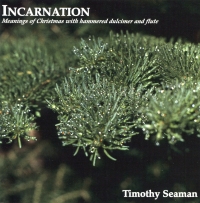 Incarnation --- Subtitled "Meanings of Christmas with hammered dulcimer and flute," this is a solo album that sounds like the work of a 3-piece band (at least). Timothy plays hammered dulcimer, silver flute, bamboo flutes, pennywhistle, bowed and plucked psalteries and keyboards. Selections include "Break Forth Thou Beauteous Heavenly Light," "Of the Father's Love Begotten," "Lo, How a Rose E'er Blooming," and "Let All Mortal Flesh Keep Silence." It's a beautiful collection which I expect to become a classic.
--- Carrie Crompton, Dulcimer Players News, Winter 1996