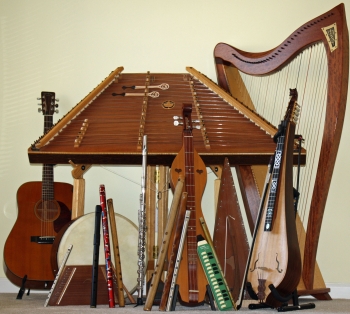 A program by Timothy Seaman is much more than just a concert: Every selection is introduced in an animated, meaningful context, drawing on Timothy's lifetime in public speaking and education to support the presentation, so audience members have a vivid concept in mind as they listen. (Seaman taught English for 19 years, and now he performs music 250 times a year, giving solo concerts since 1993.)
The extended-range hammered dulcimer is Timothy's primary solo instrument, and he plays it in a uniquely dramatic and piano-like manner. He uses techniques he has personally developed to form arrangements with more emotional impact, narrative effect, and variety than hammered dulcimer is typically known for. Timothy also incorporates daring improvisation in his playing in such a way that each performance has a special freshness and spontaneity --- always a new journey.
The music genre is a vibrant self-styled blend of Appalachian, Classical, Celtic, and contemporary approaches. Folk music is done quite differently than it's usually heard; and many of Timothy's best pieces are his new compositions encompassing many different styles and moods. Audience comments after concerts often express joy, awe, and gratitude for a thrilling experience.
Usually several other instruments come into play as well, including flute, bamboo flute, whistle, mountain dulcimer, a capella vocals, and psaltery. And the audience typically gets involved in a number of ways: question and answer, show of hands, playing along on percussion, singing, being taught how to improvise freely, etc., as well as using their imagination during each piece.
Typically Timothy's carefully crafted concert progresses through a number of intriguing themes related to a series of instrumental showpieces. However, he can specifically focus programs on particular themes, upon request, or to fit an occasion, such as the following samples:
Sycamore Rapids: Adventures Out Among the Trees of Virginia's Parks
Tenting on the Old Camp Ground: Music of the Time of the Civil War (150th Anniversary 2011-2015)
Virginia Wildlife: Animal themes!
Profound Joy: A Christmas Celebration
The Blue Ridge: Nature & History in Shenandoah National Park & Along the Blue Ridge Parkway
Dulcimers: The Hammered & Mountain Dulcimers & their Relatives
Cleansing Fountain: Appalachian Folk Hymn Interpretations
Celtic Airs: Great Lyrical Melodies of Scotland, Ireland, & Wales
Colonial Historic Triangle: Celebrating Jamestown, Williamsburg, & Yorktown, Virginia
Solo Hammered Dulcimer: Strong and clear, with lots of room for development on the one instrument