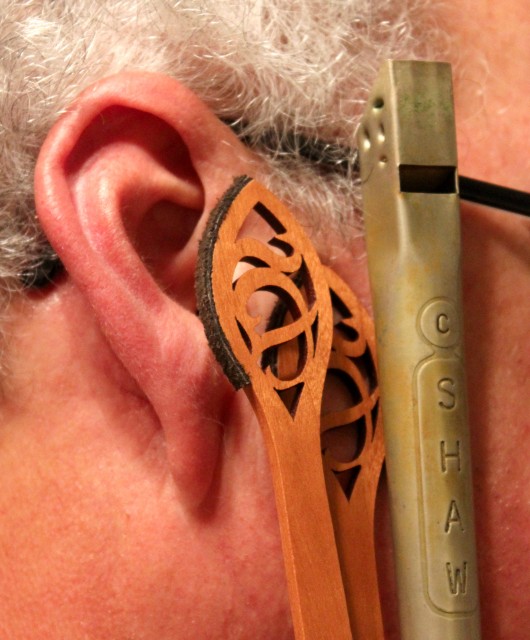 When we play music on our instruments or when we sing, our ears hear what we're doing the very instant each sound is made.
Our brains --- consciously or subconsciously --- immediately make an assessment: Is it in tune? Is it exactly in time with the overall flow of the piece? How well are the tone and the volume and the phrasing matching the goals of the performance?
Then, hopefully, our hands or voices make fine adjustments in the next moment to make sure the music is fulfilling the character we want it to have.
For example, if at the hammered dulcimer my hand has moved in such a way that the tone of a note isn't as warm and colorful as I intend it to be, my ears and neuro-muscular system instantly send that hand (or the other one) into a different posture to reach for that tone in the next note.
(And it happens at an astonishing speed! I remember times I've gone into my recording unit to move a note forward or backward in time just one 'notch,' which in the unit is 1/300th of a second, and when I listened to the result I could tell that the note had been moved. 1/300th of a second! Our brains function extremely quickly.)
Any relatively mature artist has this process going on all the time. Have you noticed it in your own work?
And if I find myself lapsing into a different phrasing situation than I'd planned, I adapt the next phrase to become an extension of what just happened --- so the piece is living its own expressive life as it unfolds.
Have you experienced that?
If you play hammered dulcimer, you'll notice that this applies to the distance from the bridge where you strike the string, and the angle of the swing of the hammer, and the way you use your elbow and shoulder and wrist and middle finger --- all combined to get that ideal tone and flow.
If you play flute, it can mean that you roll the flute one way or the other on your lip while modifying the flexing of your facial muscles to get just the right pitch-tone combination.
Our ears and brains are indeed 'fearfully and wonderfully made'!