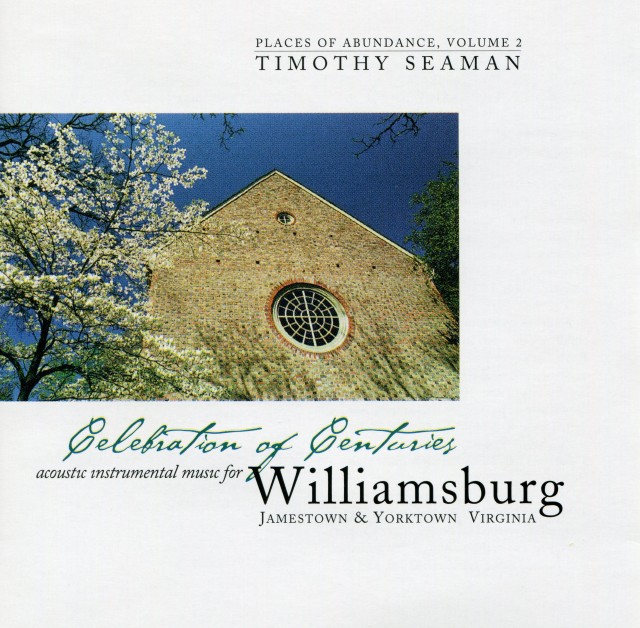 After Here on this Ridge was finished in 1997 I felt that it was time to move right on to another destination-themed album, and the obvious choice was our own local destination, Virginia's 'Historic Triangle:' Williamsburg, Jamestown, and Yorktown.
I started listing pieces I'd composed or arranged, and there were already plenty for a full album. Phil Skeens was between jobs, so I asked him to be actively preparing for guitar and drum parts on eight of the tracks. Since Henry Smith now had his own digital studio, I decided to engage him for the entire recording project this time. No more self-engineering for now!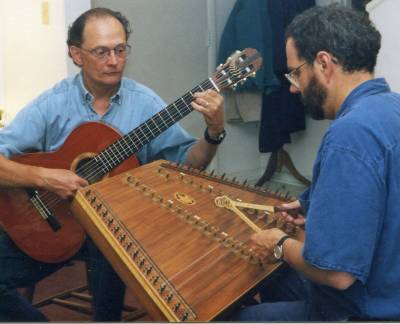 The topics would be limited but still quite broad: Historic early American music from English, Scottish, and Irish sources done in our own way; original compositions about nature and the interplays of cultures; both Baroque and folk; instrumentation carefully chosen to represent the ideas and era; both ancient and modern musical approaches.
I had an idea for Joe Healey to use his African banjar with my kalimba to refer to that part of the American heritage. We did a live improvisational take at Outback Studio.
For authentic Baroque I wanted to include the popular Handel Passacaille from Harpsichord Suite no. 7; Tom Marshall graciously agreed to have us record him playing it on his own French replica keyboard, so I brought in Henry with his equipment to capture the marvelous sound. I asked Tom if it would be okay with him if I did an improvisational version of the Passacaille later in the album, and he came back with 'Why don't you let me insert a series of chords in the middle, and you can improvise there --- it's the Baroque way!' So we did, and I also drew on motifs from Biber's and Bach's famous Passacaglias as part of that improv's fabric.
Speaking of Biber's Passacaglia, I asked Annie Loud of Colonial Williamsburg if she had a solo violin piece we could record, and she named that particular one. We really wanted to get great early American acoustics in the ambience of the sound, so we arranged with the historic Colonial Westover Church in Charles City County to do it there. Again, Henry brought his remote studio to get a marvelous sound. Annie's passionate and historically informed violin playing was wondrous!
A number of the musicians involved were alumni of the College of William & Mary in Virginia, founded here in 1693, so certainly we had to incorporate that element, including a version of the William & Mary Hymn.
So we'd had begun recording at Henry's studio!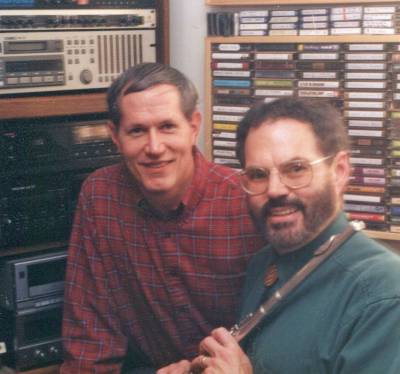 Then I was asked to play music at the funeral of a friend from church, Lincoln Rice, and one of those amazing things happened: In the receiving line for Lincoln's widow Ashley, I was standing next to the Williamsburg City Manager, Jack Tuttle, who asked me what I was currently working on, and I let him know the new project was about our area. He said, 'Oh, for the 300th Anniversary of Williamsburg?' And I realized I'd not even thought of that! He said, 'Let's set up a meeting with the 300th Anniversary Commission!'
So I met with Jack and the Commission's Director, Martha Hamilton-Phillips, to lay out a way to include the CD in the overall plan of the celebration, and the title became Celebration of Centuries.
So far in this series of blogs I've mentioned nothing of the graphic art of the projects. For Incarnation I'd chosen a slide I'd taken of a fir tree, with an heirloom German Exakta camera, in Rocky Mountain National Park, and I simply sent that to the CD manufacturer with instructions about how to lay out the art and text, and it had worked well enough. For Wayfaring Stranger I'd done the same in the first edition with a photo I'd taken with the same camera at Yosemite National Park, plus my brother Alan's fine calligraphy of the title. Then for Here on this Ridge I'd hired a professional graphic artist who had worked on many commercial projects for the National Parks, Kim Furry, to lay out the graphics in a way that would appeal to visitors of the Park, and it worked great!
So for the current project I decided to ask Kim to do this again, but she couldn't, so she recommended a colleague named Andy who called his business Company A, and he carried out the task with great expertise. The graphics had a marvelously professional design! I wanted a cover photo that represented Williamsburg but wasn't the typical Colonial Williamsburg scene, and we found a great photo of the east end of Bruton Parish Church by photographer Ellen K. Rudolph. The church's vicar gave gracious permission for the image's use.
Liner notes --- the credits and comments and informational material of many kinds --- have always been of much interest to me: I love to read all the text notes in every recording I buy or borrow! I have an English degree from the College of William & Mary and taught English for many years, so naturally I make a serious effort in my original projects to flesh out meaningful and pertinent textual content. For Celebration of Centuries I filled three internal panels with carefully crafted notes. Everything in my albums has meaning that counts, so I hope you read these liner notes that I put through about ten revisions before each album goes to press! (If you have downloaded versions of my albums, you can go to the discography pages in my website and get the pdfs of the art layouts.)
I might add as well that, starting with Here on this Ridge, I occasionally included nature sounds. On the Shenandoah National Park project I had contacted the Virginia Department of Game and Inland Fisheries to see what sounds they may have available for use in such a recording --- after I'd been rudely refused by the Solitudes company, who viewed me as a hostile competitor ---but nothing easily worked at Game & Inland Fisheries (though Lee Walker was very gracious and helpful), so I decided that in this case 'necessity was the mother of invention,' and I made the sound of a rushing stream by recording my fingers swishing in a sink of water over and over, blended across the stereo spectrum, and I imitated bird songs with a Generation pennywhistle in high G. These techniques worked amazingly well! On Celebration of Centuries I used some of the same techniques, including an Audubon bird imitator 'chipping' device. Do you recognize any species? Wood Thrush, Cardinal, White-Throated Sparrow, Oriole, Tufted Titmouse? No one has ever questioned the authenticity of the occasional nature sounds!
I composed several pieces for this project. The album opens with 'James and York Bluffs,' an intentional impression of the meeting of two cultures. A Native American is sitting on a bluff playing his flute (as I had at York River State Park when I came up with the original melody idea), and he spies a European ship coming up the river, to begin an interface of peoples that would change history. The tune has an epic, wandering nature. Later in the album is 'The Great Road' about the first highway in America built by Governor Berkeley from his Green Springs Plantation to Jamestown, and vestiges of which can still be found in the woods. I'd composed this melody in 1994, on the day my dad died. 'Spartina' speaks of the tall marsh grasses that fill the tidal flats of our estuaries, and its melody grows out of a variation of my National Parks theme 'Preservation.' (You'll find those motifs interwoven elsewhere as parts of the various tracks' arrangements.)
Many other tracks hold vivid memories for me: Phil and I recorded a medley live in which he intriguingly thumped the Irish bodhran drum while I played bamboo flute: 'The World Turned Upside Down,' the tune played at the Yorktown surrender, then a couple of carefully chosen favorite tunes of the Revolutionary soldiers. An overdubbed counterpoint section near the end interweaves several American tunes in an artistic tangle.
Phil and I did our duet of 'Drive the Cold Winter Away' and 'Greensleeves,' two great period pieces, and the bowed psaltery got its chance to be a lead instrument. Our duet of 'The Lass of Gowrie' lent a lyrical, cheerful tone; 'Child Grove' explored a contemplative, mystical mood for a change; 'Will Ye No Come Back Again,' 'Flowers of Edinburgh/Rose Tree/French Schottische' brought Phil's finest guitar talents to the fore in combination with my flutes and dulcimers across the room.
My wife Ro (vocalizing) and the Scottish fiddler John Turner joined with Henry and me on another epic medley that transformed itself back and forth between an early American folk hymn 'Jefferson' and one of our old favorite English tunes, 'Lovely Joan.' I got the bass flute back out for one of the leads, and I played the shape-note harmonies on first whistles, then later bamboo flutes. The concepts of these arrangements continued to develop their own worlds!
For an essentially solo track on my hammered dulcimer I played my own approach to two tunes by the great 18th Century Irish harper Turlough O'Carolan, poised on either side of a transcription I'd done of Bach's Praeludium I of The Well-Tempered Clavier --- one of my most personally satisfying performance pieces to this day.
For a kind of comic relief I did a zany dulcimer solo of 'Soldier's Joy' that hardly resembles the usual folk tune, and Henry masterfully enhanced it with horse 'clops' and other percussion. Henry's bass and keyboards, by the way, were a great addition in a number of places in the arrangement of the album.
Paulette Murphy was back with her keyboard arranging and orchestration for a fantasia on Pachelbel's Canon in D, incorporating three new melodic overlapping voices I'd composed called 'Canon for Three Centuries.' I had the opportunity to freely improvise on my flute in the finale of this one, which turned out to be the album's finale as well.
Certainly this project was not a mere collection of historic tunes --- it was a full-blown adventure, with a great array of colorful journeys, of which we remain proud. A sad point, though, is that the album got too long for its own good, and, as we've done on a number of recordings, we had to remove a notable piece: Annie's Passacaglia. It still hasn't found its way onto an album, but I hope it will soon!
When the release time came, we had a few technical crises, such as faulty copies, and an ice storm stopping delivery trucks, but the Tricentennial Committee sponsored a concert by Phil and me at the wonderful Williamsburg Regional Library Theatre, and on the exact anniversary of the city's founding I played a part in a gala outdoor concert --- such an honor!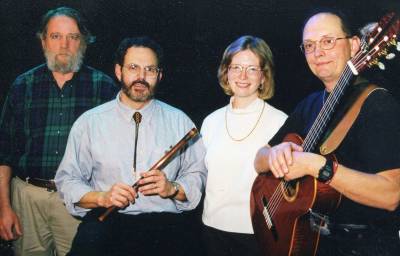 Since that time Colonial Williamsburg and other destinations have carried the CD in their shops, and a number of concert programs in such places as the Hennage Auditorium in the Art Museums of Colonial Williamsburg have featured selections and topics from the album. As of 2014 we've made 9,000 copies of the tapes and CDs!
But, as with all my themed albums, it's intended to be worth listening to for its own value as an artistic work without conscious thought of the theme. Even today!