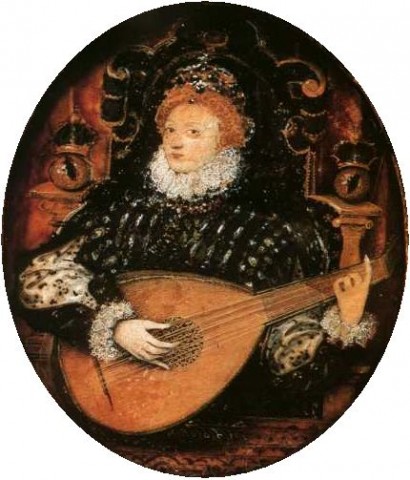 The Elizabethan era, named for one of the most notable Tudor monarchs in England, has enough distinctives for us to consider it separately from the Renaissance on the Continent.
The lute and viol (often in ensembles called 'consorts') were prominent instruments; and a particular style of madrigal was developed. John Dowland wrote a large number of lute solo masterpieces; one of the most famous is included below.
Most of the following composers are among the most significant ones (perhaps Cutting is the least). A 'division' is a type of theme and variations, as you will hear in the selection.
This is the music Shakespeare often refers to!
Thomas Tallis (1505-1585): 'If Ye Love Me', sung by the Cambridge Singers, led by John Rutter (and there's another neat video of this from the recent royal wedding)

Thomas Tallis: Tallis Canon, sung by the New Cambridge Singers

William Byrd (1543-1623): 'Penelope That Longed', sung by Catherine King, with the Rose Consort of Viols
William Byrd: 'Mounsier's Almain', played by the Julian Bream Consort

Francis Cutting (1550-1596): Divisions on 'Greensleeves', played on lute by Julian Bream
Thomas Morley (1552-1607): 'Now Is the Month of Maying', sung by the Deller Consort

John Dowland (1563-1626): 'What If I Never Speed?', sung by Kathleen Battle, with Christopher Parkening on guitar
John Dowland: 'Sir John Smith, His Almain', played on lute by Nigel North

Orlando Gibbons (1583-1625): 'Go from my Window' for viol consort, played by the Rose Consort of Viols