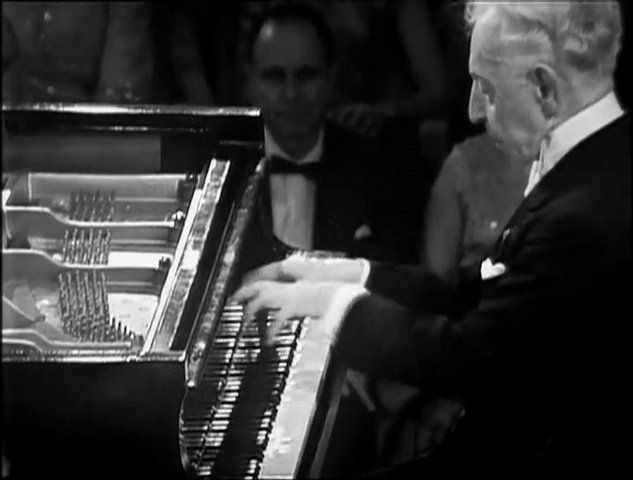 Throughout a lifetime of listening to Classical music and making my own music in a broad variety of genres, I've come to the conclusion that there are two primary approaches to how the performer relates to the music.
One is experiential: the musician takes the music as it comes to him or her and purposely cultivates an active experience of response to it, living in the present and developing a unique personal event associated with the amazing original art coming out from the page.
A favorite example of this in the orchestral realm is Leonard Bernstein. Watch him conduct: see him coaxing the players into a mood that supports his own personal dramatic ecstasy! The music does indeed take on that character as he lives within it.
I think the matchless pianist Arthur Rubinstein tended to operate in this type of emotional world as well, living in a special sensate mode.
Another approach is in a way very different. I call it architectural. The musician strives to get deep into the exquisite structure of the composition and bring its very essence out into the air. In this case it tends to be very precise and consistent, but if the process is successful the music really comes alive and again, in a different way, is full of experiential meaning.
My favorite for this way of thinking is the conductor George Szell. If you watch him, it looks like he's actively crafting the work of the players to get a unified and specific result. But that result is so powerful that one can hardly stand the greatness of the joy and yearning and impact of the art!
The pianist Rudolf Serkin also had this mindset, and when you hear his Beethoven sonatas, or his Brahms or Mozart concertos played together with the kindred spirit Szell, the outcome is transcendently meaningful, beautiful, and compelling!
Both angles are valid and worthwhile; that's why some of us listeners collect multiple recordings of certain Classical pieces, so we can have the pleasure of experiencing both. I think I am moved the most by the latter, the architectural, but the present experience and gusto of the former is truly wonderful as well.
And of course there is a range of mixture of the two aspects in each performer --- it's certainly not as cut-and-dried as my comments may seem to say.
The same principles apply in all types of music --- but I think I see them the most profoundly in Classical.
And when we play music ourselves, we strive to reach into both realms as expressions of the authentic human intensity and significance that's there in worthwhile music. Oh, the thrill! Oh, the exultatation!
This is a quick and simple blog post, but... it's extremely far-reaching and massively important.