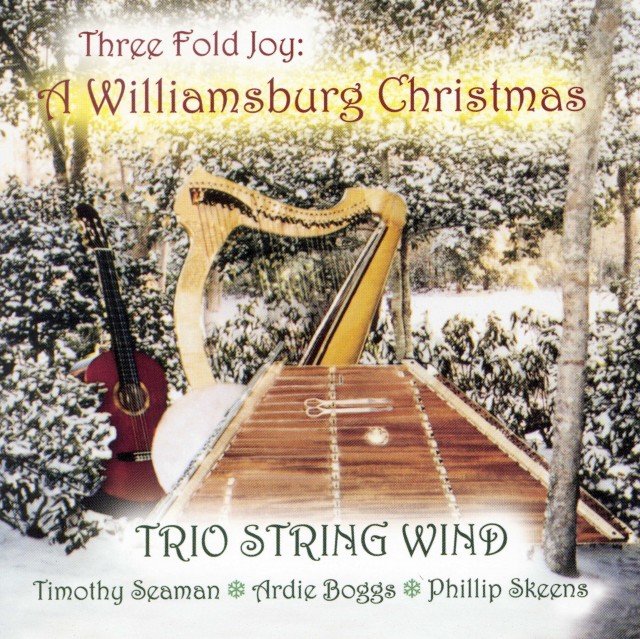 On September 11 of every year my thoughts go back to our Trio StringWind: Phil Skeens, Ardie Boggs, and myself.
In 2001 we were about to celebrate the release of our live album Three-Fold Joy: a Williamsburg Christmas by giving a free concert at the Hennage Auditorium in Colonial Williamsburg, and the date was September 13, 2001. It was well advertised by the Foundation's people, as usual.
On the eleventh we were scheduled to have a rehearsal at Ardie's house. In light of the day's events,we discussed that evening whether we would (or should) even have a concert, and we decided to go ahead as if nothing had changed, until further notice, so we went over all the selections one at a time and checked with Ardie's husband Dick after each one to see if there was any new news. For example, were we now officially in World War III?
Two days later, the skies were still empty of civilian airplanes and our tourist-destination town, Williamsburg, was in limbo as far as visitors' travel was concerned, but we decided to go ahead and plan to have the concert, even if no one showed up.
On stage, tuned up and ready to just pack up if need be, we waited to see who would come in the doors. Well, they started pouring in in droves a half hour before the concert, and all seats were quickly filled! We even saw some couples angrily trying to convince the theatre to let them in so they could stand. They were bitter as they turned away.
The crowd was hushed and seemed both awed and somber.
The beginning of the music was my solo bamboo flute playing 'O Come, O Come, Emmanuel,' and the moment I played my first note we sensed a sort of electricity shooting throughout the place. With the conclusion of every piece there was an explosive response and a sense of strong community among these hundreds of strangers.
As Phil sang the final tune, 'In the Bleak Midwinter,' practically the whole audience seemed to burst into tears, and they swarmed onto the stage to hug us and thank us and tell us that this was the exactly right thing to be doing amid this week's trauma. We were overwhelmed with the power of such a moment. I think no performance before or after has had such a distinct sense of meaning and mission.
How are we now, America? Do we remember? What did we learn? What really counts?