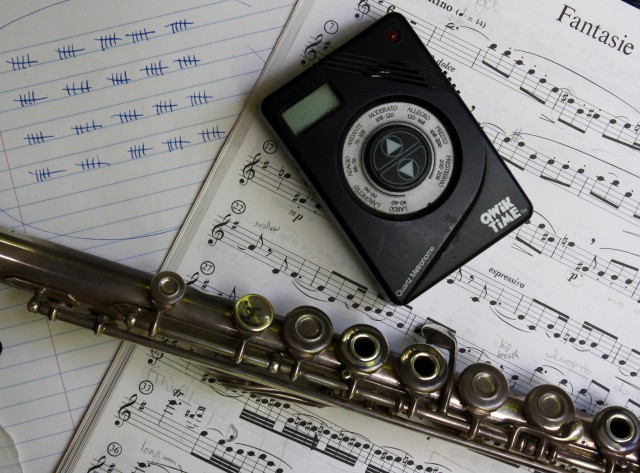 If you've practiced music for a performance or audition or jurying, you've probably run across a passage that's especially hard to get just right; in Classical music in particular there are lots of downright 'virtuoso' spots that need to have every note in place, or else they're just wrong….
So it's commonly known that you need to isolate a tough passage and play it over and over till it's ready to be joined with the easier phrases.
In 1995, when I was taking flute lessons at Christopher Newport University from Virginia Symphony member Cindy Decker (the only time I've actually taken flute lessons), I needed to prepare a piece by Gabriel Faure for juries, and it had some special little runs that I was continuing to have trouble with!
In a lesson Cindy asked me if I'd been isolating those, and I said 'yes,' and then she said… 'How many times do you play each passage in isolation?' Hmmm…. My answer, of course, had to be 'not enough.' She suggested I start playing the phrase slowly, then gradually speed up as I would repeat the note groupings a significant number of times.
So I decided to set up a system for myself to make sure I was carrying that out: I used a metronome, set at about half the normal speed, and I would play the problem section five times in a row at that speed, then tally it on a piece of paper with the classic 'cross-hatch' symbol.
Then I'd uptick the metronome three to five notches; say, if it had been set at 45 beats per minute, I'd turn it to 49 bpm. Once again I'd play the phrase five times in a row.
I'd keep this pattern going till finally I was playing the piece at the normal tempo --- and lo and behold, I could play the difficult passage well, and at the correct speed!
The first time I tried this with the Faure and succeeded, I looked down at the paper and saw quite a few cross-hatch clusters of fives, in fact twenty of them. I'd just played the passage a hundred times in a few short minutes! And it had worked remarkably well.
So the lesson is simple and straight-forward here: If you have difficult music to learn, either for work or for fun, try using a system like this one, and you'll probably be very pleased with the success you experience!
I reckon this concept can work in other areas of life besides music, too --- right?