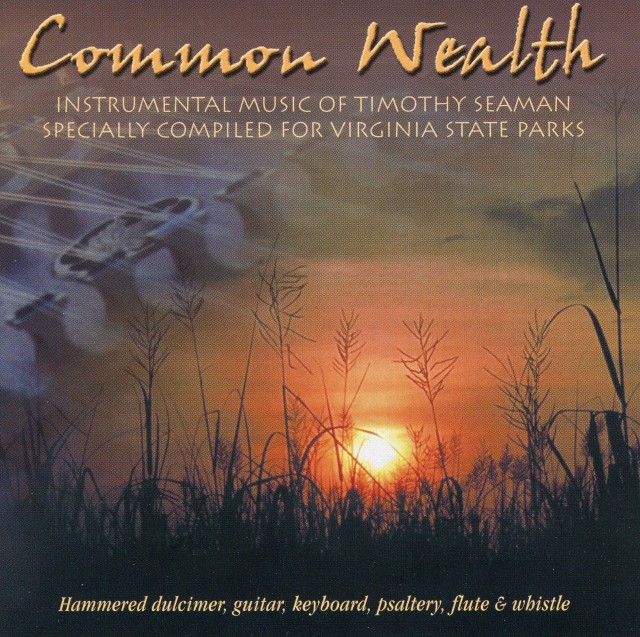 In the year 2000 I was excited about all the well-received music I'd been able to do for Shenandoah National Park, and I'd begun playing music in the Park itself. I wanted to branch out from there to Virginia's State Parks, where I also was performing, especially at our nearest ones, York River State Park (for whom I'd composed and recorded two pieces on the album Celebration of Centuries, 'James and York Bluffs' and 'Spartina') and Chippokes Plantation State Park across the ferry in Surry. So I was considering what could be added using the remaining pieces I'd composed in 1995 for the National Parks Suite and in 1996 for the defunct album project Such a Gift.
I was asked to play music in the Jones Mansion in the Christmas season of 2000. While there my music caught the attention of Holly Walker, a State Parks program director from Richmond, so I told her of my dream of making an album of pieces for the State Parks. To my surprise she said that they were actually looking for a CD to be sold in the park shops, so she set up a meeting for me with the Director of State Parks, Joe Elton! When I met with Joe he had the marketing guy, Tim Skinner, sit in. I explained my vision, and Tim took over the collaboration. They asked me how long the album might take to produce, and I said it would probably take several months, and they asked me if in the meantime we could put together an appropriate compilation of tracks from my existing albums, thus having two new albums over the next two years.
I asked if it would be possible for me to have a place to set up my studio (as I had been granted by Colonial National Historical Park at the Farris House in Yorktown for Such a Gift) so I could record some tracks to update a few of the analog selections to fully digital ('DDD'), and to begin recording some new tracks for the second project. The ideal solution: an old sharecropper's cabin at Chippokes that is usually used for housekeeping rental, available at the beginning of February 2001 for nine days, where I could have a free and quiet place for day-long work.
Next step: I bought a digital recording unit, a Tascam 788, and new microphones, an AudioTechnica 33a and an AKG C1000B, to upgrade my own recorded sound when away from Outback Studio.
February came quickly, and I moved into the Spratley House.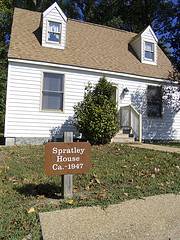 Mornings were partly spent walking out in the winter landscape of broad farm fields and massive old-growth trees and estuarine beaches. Farmers were doing some field work (this is the oldest continuously used farm in English-speaking North America), so occasionally I had to stop recording because of tractor noise --- time to work on composing, then! Also one of those crazy things happened: The moment I turned on the mikes for the first time in this idyllic quiet place, a loud rumble began overhead! It was a hovering military helicopter --- what in the world! I turned on the TV and saw in the news that the newly inaugurated President Bush was across the river at Kingsmill, meeting with newly inaugurated Congressmen, so that must be the Secret Service overhead at my sharecropper's cabin, keeping watch on things across the James River!
That didn't last forever, but what strange irony!
Lots of ideas were flowing for the new compositions for the State Parks album that became Sycamore Rapids, and several pieces were recorded for it, but I'll save those comments for the story of that project.
I made new recordings of 'Amazing Grace' on the silver flute, pretty much the same as on Wayfaring Stranger but with a new octave effect combined with a 'ping-pong regenerating delay,' and then a similar remake of 'Falcons Among Crags' from Here on this Ridge on bamboo flute.
I wasn't fully satisfied with the original recording of my composition 'Timberline Wander' on Wayfaring Stranger, so I redid it in my current improvisational arrangement with the intent of having it both here on Common Wealth and on a new version of the original album that same year.
It was fun to make a new digital version of the fantasaical approach to 'Shenandoah' from Here on this Ridge --- more improvisation, but this time with the added range of the D600 hammered dulcimer! So I played the first verse in the key of B (five sharps!) to take advantage of that new capability.
Because I had eight simultaneous, independent tracks to work with on the new recording unit, some of these pieces were done in a more sophisticated stereo pattern, like Henry had done at Outback --- double-miking most instruments and overlaying them in the mix in a 'very stereo' manner --- so the 'Shenandoah' version was different in this way too. Although there are lots of different good approaches to the stereo pattern (how we simulate two ears listening) used by studio engineers, and the single-mike approach is fully valid among those, it was a neat opportunity for me to double-mike more from here on, and that's been my main technique over the years.
One new composition for Grayson Highlands State Park was 'Hiking in the Highland Firs,' a favorite for me to play and for audiences to listen to from 2000 to this day; I took the opportunity to record it for this album as a solo, intending to include it as well on Sycamore Rapids with other instruments added. The same original dulcimer solo on both! The marvels of multi-track studios!
I came home and carefully perused all my previous albums for just the right combination of Parks, nature, history, and Virginia pieces to make an exceptional compilation, then made a prototype cassette and shared it with Tim Skinner. He saw how it fit together and gave the go-ahead, connecting me with their in-house graphic artist, Bill Crabtree, who caught the vision right away, using a blend of the Spartina plant and my hammered dulcimer 'Big Meadows Twilight' images for an intriguing cover.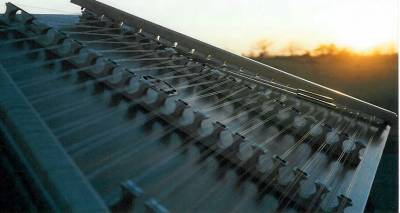 I then took what we had to Henry Smith's Outback Studio and we put all the tracks together for a final mix. We truncated 'Taps' from its extended track on Quiet in the Meadow, and did the same for 'Here on this Ridge' from its namesake album. 'Taps' became the ending piece, appropriately.
I'd had a special place in my heart for 'Spartina' ever since it had been recorded for Celebration of Centuries, with Henry Smith's swirling introduction and Phil Skeens' and Laurie Jean Seaman's vocalizing parts --- so I decided to open with that one. An intriguing introduction to a meaningful collection!
Other tracks included a new version of 'Preservation,' the lively 'Soldier's Joy,' the Shenandoah Park compositions 'Big Meadows Twilight' and 'Hazel River,' Williamsburg album pieces 'The Great Road' and 'Canon for Three Centuries,' and 'Shepherd's Wife's Waltz/Midnight on the Water,' to fill out a full range of Virginia themes in musical form.
And soon the CDs were in the thirty-six Virginia State Parks gift shops!
Here's a link to the discography page for Common Wealth in our website. Samples of all tracks, artwork, etc.