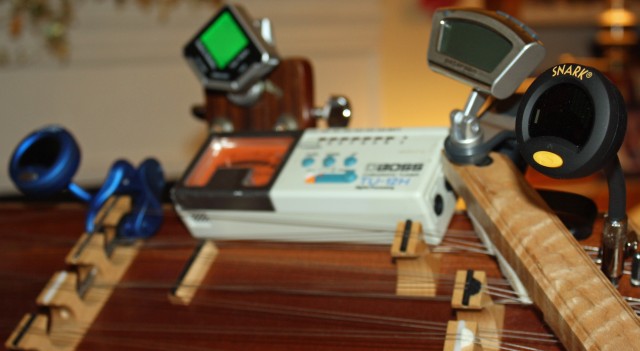 Over the past twenty-seven years I've used a number of electronic tuners to get my hammered dulcimer and other instruments in tune before a gig or a recording session, and I've hoped for quickness and exactness. Now, the most recently purchased tuner really stands out. I'll tell you why after a brief history:
First, starting in 1988, I had a Sabine. There were just three little lights showing 'flat, in tune, sharp' and the note was sensed by a microphone or a jack for an extension cable with an alligator clamp at the other end. It did a decent job.
I found out early on that a microphone picks up nicely if there aren't other sounds like voices or other instruments to confuse it, so the cord and clamp are handy in noisier settings.
Next I used an Arion traditional-design model with a real needle that bounces back and forth, with the microphone and an input for the cord. This one seemed a bit more precise than the Sabine.
Then I tried an inexpensive LCD display 'virtual needle' unit, a KwikTune. It served well enough. I wasn't positive it was as accurate as I needed, but maybe it was.
Everyone seemed to be talking about the Boss TU-12 as the 'industry standard' with a physical needle, a microphone, and an input for the cable, and it was built for high-grade precision --- indeed, it cost enough to warrant that designation. I got the TU-12H version, which has both a high and a low range. For a number of years I perched that unit atop my dulcimer, and I still use it some of the time these days.
For the guitars I've long clipped on a model made by Barcus-Berry; it's been ideal for guitar, because it shows perfect little gradations that are just right for subtle tweaks on certain strings --- but the clip is simply too wide to fit anywhere on my hammered dulcimer, so it's useless there.
Several years ago the Snark models became very popular in the dulcimer world. They're all the clip-on type as well, and their clips are narrow enough to easily fit under the strings of a hammered dulcimer if you clip onto the bridge, and you can clip onto tuning pins as well. One real benefit is price: These cost less than any others and seem to be marvelously accurate for most uses. However, they also have a weak joint that seems to have broken on every single player's Snark and it's had to be glued or replaced. But at such a low price, so what? I've used my blue Snark extensively for several years now.
A few years ago I was talked into trying another 'industry standard' tuner, the Peterson Strobo-Clip. Its clip fits well enough on a dulcimer, and it's exceptionally accurate. It's taken me some time to get used to the different display method, though: It's a strobe design, so it doesn't use location to tell you whether you're sharp or flat, but rather it uses motion and stillness. When the strobe display is utterly still, you're on pitch, and if it moves to the left you're flat, etc. Pretty cool little device.
(Lots of players love Korg tuners too, but I've never had one myself.)
One drawback I've experienced in every single one of these electronic tuners is a difficulty that they have in recognizing some notes; each model struggles to figure out what note's being played in certain ranges, and the ranges differ from brand to brand. I've had to try playing louder or softer, picking the string closer to or farther from the bridge, moving the tuner to a different location, etc., and hoping this particular string will get identified fairly soon! Occasionally I give up and just tune that problem string by ear.
Until now! Dusty Strings has developed a design in which they use a Snark tuner's head (the black one, so it's that particular model), a strengthened joint so it's less likely to break, a flexible heavy-duty cable an inch or so long that props the head above a finely tooled metal piece that fits perfectly onto an instrument's tuning pin. I've been using this model, the Dulci-Tune, for a few weeks now, and I'm thrilled at its ability to very quickly identify every single note on my 85-string hammered dulcimer, as well as my three bowed psalteries, my autoharp, my plucked psaltery, and the four other hammered dulcimer models I have for sale.
It can't be used on instruments that don't have zither-style tuning pins, but for those that do, I see it as the best of all these I've used over the years. The price is up there in the same range as the Peterson and the Boss, but it's worth every penny for its excellent service!
I showed the Dulci-Tune to an expert electrician the other day. He remarked that the joint had apparently been heat-shrunk impressively well in the strengthening process, and he explained that there was no need for a transducer as in all the clip versions, because the direct metal-to metal contact actually creates a better transference of the vibrations. He guessed that in order to connect the internal wire to the metal mount they probably used a sophisticated graduated machining process that gives it a very positive and sturdy wire-to-mount contact. The electrician was not surprised that this unit was serving me the best.
So congratulations to Ray and Sue Mooers for developing this well-designed product! Yes, I must give the disclaimer that I am a Dusty Strings dealer and you can get one of these tuners from me --- but then again I became one of their dealers in the first place precisely because of this kind of excellence that I'd been exclaiming about for decades!