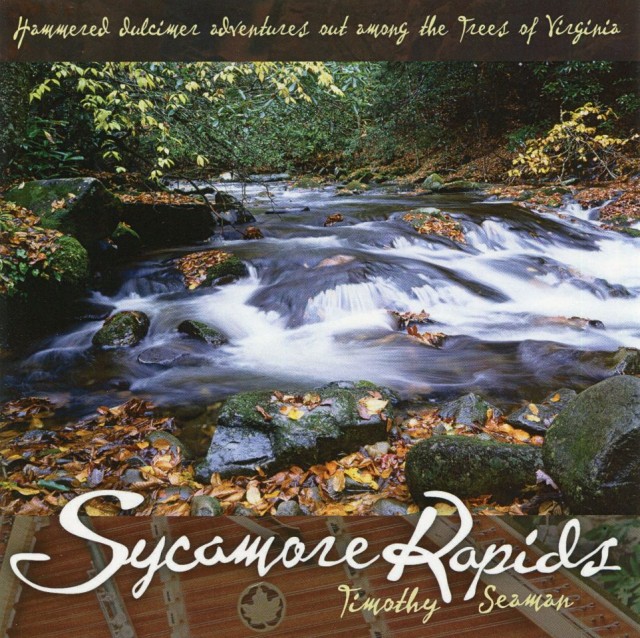 This is my personal favorite among my albums.
This is perhaps the project in which I've most featured my own special techniques on solo hammered dulcimer --- at least that's how it felt at the time and as I reconstruct the pieces in live settings (in the studio we usually do much more than just record solos) and the creative vision is worked out in great detail and with much joy!
I went for a walk alone on the wild beach along the vast estuarine river one morning, contemplating some pentatonic (five-note scale) ideas. I could hear a bamboo flute hauntingly intoning a simple scale-based series of notes, D-E-F#-A-F#-E-D-E-F#-low A, and then the same again with a different last note, high B. It felt good!
So I headed back to the cabin, the Spratley House that had been graciously lent to me for this State Parks composition and recording project. I played the tune fragment on a bamboo flute and loved the idea. But what if the hammered dulcimer were used? I played the notes in parallel octaves on the dulcimer… then it suddenly took off as a rhythmic and cleverly dysjunct pattern, and it moved on further into a new section of splashing rhythmic patterns. A new composition was born, and it clearly expressed a canoe ride through whitewater. Forget the bamboo flute and the estuary! This was to become one of my primary hammered dulcimer showpieces and the title track of the new album, Sycamore Rapids, for the Virginia State Parks --- and it was composed at Chippokes Plantation State Park!
The year was 2001, and ideas were swarming in exciting arrays. Trees in the Virginia State Parks, and recreation, were the primary themes in consideration, and several pieces were in active development during the time I was completing recording the compilation Common Wealth. I thought a fishing motif would be well incorporated in the canoeing story of 'Sycamore Rapids,' and Franz Schubert's tune 'The Trout' came to mind, so I worked on a brief solo version for dulcimer and inserted that in the center of the piece. During a break I headed over the ferry to Williamsburg and bought a CD of the 'Trout' Quintet for reference, and I played it all night as I slept in the cabin, for inspiration!
Other compositions with their roots in the Such a Gift album era of 1995-1996 found their final home in this project: 'Crabtree Falls' had an impressionistic approach to a waterfall named for a Virginia tree, and I recorded it in the Spratley House; 'Sugartree Branch' (named for an obscure stream in Saint Mary's Wilderness where I'd once camped alone far from any trail, but it's also a stream named for a wonderful tree species) was newly recorded here on solo dulcimer.
I had the dream of transcribing another of Bach's masterpieces for hammered dulcimer, this time the Courante ('running') from Cello Suite Number 3, low down on my extended-range instrument, and I got that onto paper and began developing the actual playing of it, studying it partly as I rode back to the park on the ferry.
But my nine days at Chippokes came to an end, and I needed to move on. We finished three albums that year: the compilation Common Wealth; a trio Christmas recording with Ardie Boggs and Phillip Skeens, Three-Fold Joy; and the re-release of Wayfaring Stranger --- enough for one year!
I needed another place to set up my studio, and I began talking with Tom Cervanek and Brad Thomas at York River State Park. They set up a time in January of 2002 for me to record in their environmental education room --- what a perfect venue for nature music!
So in early January of 2002 I brought my recording equipment to the park and set it up. The room had a high, slanted ceiling of wood over a concrete floor and wooden and glass walls, a 'live' aural environment. I anticipated a lively resonance and enjoyed that aspect of the sound!
So, in the evenings when the park was closed, I worked hard for several hours each day over a period of several weeks. I was able to get the primary dulcimer and guitar tracks of 'Forest Succession: Chestnut to Chestnut Oak;' 'Sycamore Rapids;' 'Courante/Ro Running Through the Dogwoods;' 'Wind in the Maples;' 'Hiking in the Highland Firs;' 'A Deep Breath of Wilderness Air' (my transcription of Bach's 'Air on the G String'); the folk hymns 'We Hung Our Harps the Willow Trees Upon;' a Brahms adaptation 'O the Hickory Leaves' and 'Do You Love an Apple' for Shenandoah National Park; 'Sky Through the Pines' (a reworking of a 1995 composition) for False Cape State Park; and 'Wondrous Love/Gentle Waltz in Red Cedars,' the last a tribute to Chippokes Plantation State Park.
Wow, a lot of recording was done in those few weeks! But that's not all: Phil Skeens met me at the park in the evening a couple of times to record a thrilling duet of 'Clinch Mountain Quickstep' on hammered dulcimer, guitar, and bodhran drum, and he added a wonderful harmonica part on 'Gentle Waltz.'
The fluorescent lights in the room buzzed, so they couldn't be used. I brought a clamp light instead, and one time I had to turn off the mikes because the ladybugs were making clanging sounds on the metal reflector of the light! (Some of those sounds are still deep in the tracks of the final mix, but I bet you'll never find them!)
Another day I finished a successful track and sensed motion behind me: I turned and saw a Bald Eagle soaring nearby at the head of the river bluff just a few yards away. So appropriate!
Again I needed to finish the recording time I'd arranged for at a borrowed space, and I bade farewell to the York River State Park folks for a time.
The studio moved to our living room for the next phase. An epic and animated medley for Sky Meadows State Park was constructed here at Seasons Trace Parlor, 'Shady Groves': four tunes with the word 'grove' in each title, including another ori
ginal composition called 'Walnut Grove', celebrating a walk from one set of trees to another in that exquisite Northern Virginia location.
I added various supporting instruments to my dulcimer showpiece 'Hiking in the Highland Firs' and tweaked a number of details throughout the selections, then headed back to Henry Smith's Outback Studio for the final phase. We pulled back out the tracks of 'Three Ravens' that Phil Skeens and I had recorded there a few years before, and the flute-and-guitar improvisational duet came alive now as 'Three Ravens in a Mountain Pine'. Henry added a number of keyboard and bass layers among the arrangements throughout the album as well. A great deal of subtle detail was being sifted in for a deeply conceptual project.
I must confess that I love trees! At the time I was even carrying out a fun hobby of measuring the circumferences of large trees, species by species, to keep in a chart. And I met for several hours with Stanley Warner, the State Sylvaculturist, at Cumberland State Forest, and I learned a vast amount of lore that wove its way into the themes of the pieces and the introductions of the works in my concerts and the liner notes of the album. For example, 'Forest Succession: Chestnut to Chestnut Oak' actually is intended to depict the change over time of a dominant species such as the poor sick American Chestnut as it was replaced by a remarkably similar species, the Chestnut Oak, as Stanley had explained to me.
The cover photo was licensed from none other than Dwight Dyke, the official photographer for the Virginia Department of Game and Inland Fisheries, publisher of the magazine Virginia Wildlife. It was a treat to get back to spend some time with these folks associated with my dad's conservation career!
And to this day I greatly enjoy playing in my concerts the many dulcimer solos from this album that have distinct nature, recreation, and Virginia destination themes! Have a listen: