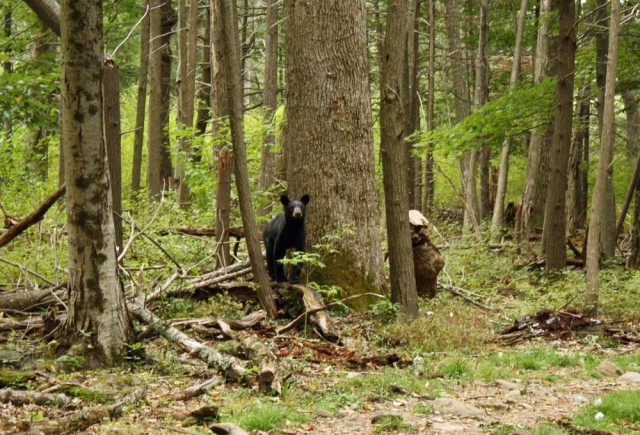 I have a modest collection of true bear stories from my times camping, hiking, and backpacking, which are fairly extensive and have only occasionally involved bears. Below I'd like to share a few for posterity. (Rowan has already heard all of these, but years ago now, so he might need a refresher! And Wyatt and Virginia need to hear these too.)
Let me preface the stories, though, with a fact. There are multitudes of stories and cartoons out there that feature the scenario of bears eating people, like Gary Larson's Far Side work of genius when he shows bears looking at an igloo and saying something like, 'I love this kind: crunchy on the outside and gooey in the middle!' (Larson is a biologist and knows better, but he is also a brilliant humorist and knows a fun topic when he sees one!) Please understand this: The Black Bear, by far the most common species in America, eats berries, nuts, and insect larvae such as grubs. He's a scavenger. The only time he'll hurt humans is when he's scared or has a pursuit instinct in play. (Don't run!) Okay?
Story #1: In 1969, as a camper at Philmont Scout Ranch in the New Mexico wilderness, I had Rick Lundin as a tent mate. At Apache Springs Camp we heard that there was a large bear who sometimes would raid the cook tent where there was lard for Dutch oven cooking demonstrations, and the beast was large for a good reason! The night we camped there the bear made the rounds of the campsites, causing one of the nearby crews to yell and bang on pots to drive him away. Well, our crew was already in the sack, and Rick and I realized to our dismay that Rick had left his toothpaste in the tent, next to the little screen window. The bear came to our campsite, and he found the toothpaste and snorted (we were paralyzed!) --- but then sniffed Rick's putrid hiking socks next to it and snorted again (the snout was right there) and moved on, running into our guy lines as he went, freaking us out even more! He did rip a neighbor's tent down the front to tear open a backpack to get a single sugar packet that was stowed deep within it. Yes, bears' sense of smell is that good!
One of the many astonishing 'coincidences' of my life is that, in the 1980s, my school principal here in Virginia, Jim Beavers, saw a photo I had of Apache Springs Camp and said he'd camped there in 1969; we checked the dates and realized that we had been there the same night and had the same bear story! He had been one of the guys banging pots in the next campsite. Wow!
Story #2: I spent the next four years, 1970-1973, on the Ranger staff of Philmont, and we had to consider bear issues every single night, so I carefully trained each of my assigned crews in how to hang bear bags (jocularly called 'bear bait') high in the air on a rope we strung between two trees so there was virtually no way for the creatures to get to them. For four entire summers we were utterly successful: working there all summer long, I never saw or even heard a bear!
Until the very last night. We virtually never slept in tents, except during the July week of monsoons, because it almost never rains at night in the New Mexico mountains in the summer. So my Kit Carson Men crew was spending our wistful last night in Shaefers Pass, sprawling our sleeping bags out on the pleasant high mountain grass under the Ponderosa Pines and Douglas-firs. In the middle of the night, I woke up in the moonlight to see a small mama bear sitting at my feet and looking at me, I assume with affection. (Ha!) I remember raising myself up on my elbows and saying, 'Hello, Mrs. Bear! Congratulations! In four summers working here I've never seen a bear till this final night!' Then I lay back down and went back to sleep. After a while the other guys woke me up and said, 'What in the world were you doing talking to that bear?!'
Story #3: Well, there is another story from those four years, but we never saw the bear. At Cimarroncito Camp, earlier in 1973, my guys were laid out on the grass sleeping while I chatted with another Ranger, Greg Snyder, at his nearby campfire. Suddenly there was a blood-curdling scream from down at my site, and we went running to see what the crisis was. The camper said a bear had bit his foot! I tried to calm him down and help him realize that he was just dreaming --- till we saw the tooth marks and saliva on his sleeping bag! There were little indentations on his foot as well, where the teeth had pressed against his skin.
Why? Well, the crew had taken showers in an open-air shower facility heated by a wood-burning boiler, just before turning in, and there had been soapy standing water in the shower that couldn't easily be rinsed off. A cautionary tale!
Story #4: Oh yes, and there was another bear we didn't see: We joined a crew that was bushwhacking and rock scrambling its way up to the summit of Cimarroncito Peak from Webster Parks Camp one time --- maybe that same trek --- and the crew left their lunch debris under the tarp in the campsite. (Not my crew!) When we came back, one of the unopened bags of fruit juice granules had been neatly slit open with a claw and tidily emptied with a big tongue, for there was nothing inside but saliva.
Story #5: Another unseen bear: At Lovers Leap Camp one time, another Ranger (Steve Knecht, I believe) who was camped near me realized when he went to bed that he still had a vacuum-sealed can of diced dehydrated ham in his pack, so he played it safe --- more than one would expect --- by throwing the can outside his tent. In the morning the can was empty, its top neatly opened by a tooth and cleaned out handily, with saliva all over it. Steve hung that can on his pack for the rest of the summer.
Story #6: And one more account from Philmont from the five summers I was there, though I was not involved with this one. This practically qualifies for a Darwin Award, except that there was not a death. At Fish Camp, in either 1969 or 1970, a young camper saw a bear poke his head into his tent to sniff something he had not hung in the bear bag, and he got the idea to get a photo! He actually snapped a flash picture at close range and was treated to the reaction of a terrified defensive bear slashing out with desperate claws. There were many stitches sewn, I hear.
Story #7: Shenandoah National Park in Virginia has the distinction of hosting the densest population of Black Bears in North America. If you spend much time there, you're bound to see one --- or a family. About ten years ago I was hiking back from White Oak Canyon and passing through the Limberlost area; a small mama bear was standing at the base of a tree looking up. Every so often an oak branch fell in front of her, laden with acorns. She had sent her cubs high into the tree to collect branches full of food! So cool…. (See the cover photo.)
Story #8: Similarly, once on a trail near Matthews Arm Campground in Shenandoah, I saw a mama bear standing in the trail looking at me with great interest and with a stare that did make me pull to a stop and say, 'What's up, lady?' She didn't budge from that stance for a couple of minutes --- till she snorted and there was a rustling in the brush a few yards in front of me, and a cub came scrambling out and ran to her to climb the oak tree next to the trail. Whew!
Story #9: Also near Matthews Arm a number of years ago I was doing my usual very brisk pace down a trail toward a stream basin, not long after a major hurricane had felled many trees in the Park, and I surprised an adolescent bear who was totally absorbed in his hunt for grubs in the rotted center of a tree that had just been sawn to clear the trail. We… were both quite startled!
Story #10: About five years ago, Ro and I were spending a day biking for the first time on the rails-to-trails New River Trail State Park near Galax, Virginia. At one point when we were separated for a bit, I was cruising along the river trail and heard a big crash of a tree trunk in the forest uphill from the trail. I thought, 'Hmmm… might be a bear looking for bugs….' Then, soon after, I had to hit the brakes hard to avoid actually striking a sizable bear running across the trail in front of me toward the river. Wow!
Story#11: I must give a tribute to my older brother Lowell here, who is truly gifted with that 'way with animals', like my younger sister Cathy is. (I am not!) In 1968, on a family vacation, Lowell and I were hiking along a ridge above a lake in Algonquin Provincial Park in Ontario, Canada, and suddenly we noticed a mother bear to our left, close to the trail. Looking to our right, we saw what we'd feared might be there: a cub! We were between them, as one is always taught to avoid. So Lowell simply stood up straight and still and looked that mama bear in the eye and gently but firmly pointed at her and said in a steady, serious voice, 'We are just hiking through, and we mean no harm; you just stay put and let us pass.' She did respond appropriately to his instructions, and we moved on. Thanks again, Lowell!
And not a single person was eaten in any of these stories.