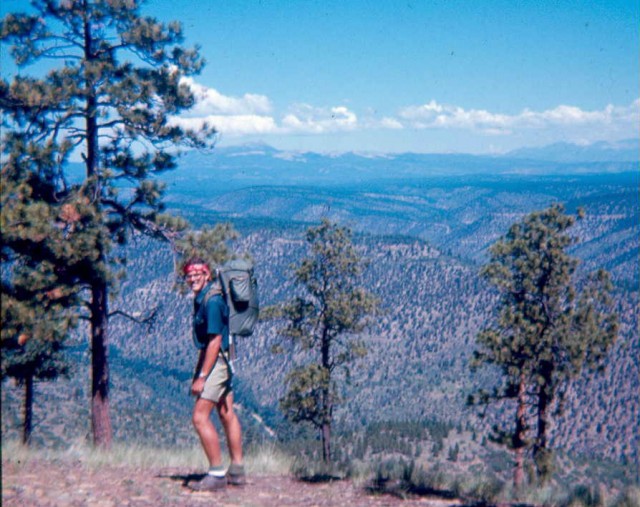 [New Mexico wilderness, 1971]
I'm a mild claustrophobe.
I don't feel comfortable with being cooped up or hemmed in or in a tight corner.
Maybe that's one reason I love hiking in mountains: You can look out over vast expanses and soak into your soul the vastness, the big sky. You can walk all day long without coming to a necessary ending place.
I love a sunrise from a campsite high on a craggy, forested mesa in New Mexico, as the orb ignites the many lakes across the plains, then again to the east that evening the hail-induced disc of the utterly full rainbow over the same land.
Even when choosing a place to hike in our Tidewater Virginia region, I find that I have a strong urge to go to the most wide-open places, like York River State Park, with its high bluffs over the mile-and-a-half-wide York River, footbridges over estuarine marshes, and many miles of broad Colonial trails through broad forests.
Flying in airplanes, Ro and I don't think about the fact that we're enclosed in a little sealed tube (!) --- but rather we glue ourselves to the window, absorbing the magnificence of mighty spaces, far-reaching topographies, and sunlit cloud canyons.
Wide-open spaces! Don't fence me in!
And during the past few years we have been kayaking often on the lakes and estuaries throughout our area. We've found that our favorite desire is to cross the wide rivers and even to venture into the Chesapeake Bay waters out past the York's mouth. But why not just stick to winding through the smaller streams and watching the herons hunting fish? We need more sky, more expanse, more openness!
This is how I feel about music as well: It needs to travel the expanses; it needs to view the wideness, aspire to greatness of heart, fly the open spaces of the ultimate. Both in listening (Bach, Beethoven, Brahms, and Bruckner come to mind) and in playing (new compositions, new arrangements, new improvisations) I don't want to merely play tunes and fulfill obligations using my skills, but rather to actively pursue the reality of broad panoramas of solid truth.
Once again comes to mind C.S. Lewis's concept of 'inconsolable longing for Joy' in everyone's soul, the one that never finds its satisfaction on earth but, he believed, was placed there on purpose to point us to seeking our true intended home: heaven and God, where we find those fully authentic wide-open spaces!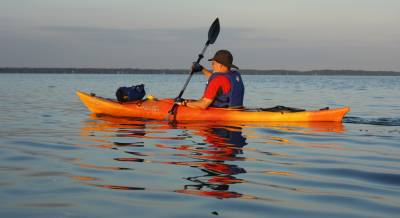 [James River, 2013]