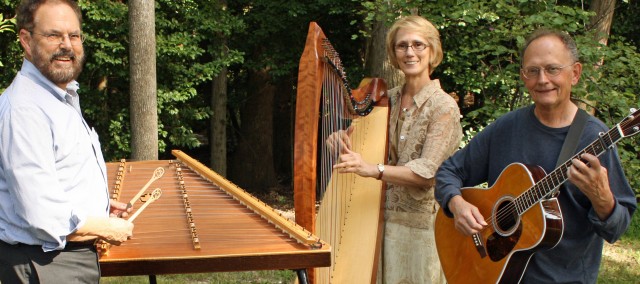 In the quarter-century I've been playing the hammered dulcimer, I've had countless experiences involving the nature of the sound coming off the instrument and out into the air. May the following observations in some way bring new insight into your own playing and listening!
First, let's look at directionality. A hammered dulcimer is a very directional instrument: a great deal of the sound comes straight off the top, the main sonic surface, and it flows in its fullest character right into your face, where your ears are! What about other people who can't listen up there like you are? Well, many times I have been playing a piece with great passion and energy and percussiveness and volume, and then someone comes up and compliments me on my music's softness and gentleness and relaxation and smoothness --- hey, I was banging with all my might! What's going on? Well, perhaps the sound was changing character significantly as it came around the sides of the dulcimer, and as it swirled off the wall behind me.
A solution I try, then, is to turn the hammered dulcimer around till the main sound surface faces more toward the listeners. When I've done that, I get few disjunct comments about the sound --- and as a matter of fact, in some informal settings I've been asked to quiet down some!
(Yes, turning the instrument around like that means you're not personally facing the audience, but... the instrument is, and they can see and hear better, just like when a grand piano is turned sideways for a concert. Of course, I turn my face to the people whenever I'm not playing, so they do see my face.)
Another thing to consider is acoustical environment. Your instrument's sound is vastly affected by where it is: If you're out in a field, the fresh outdoor atmosphere sounds great, but most of the music escapes into space, so people need to be close to hear it well; if you're in a small parlor, the whole room becomes a part of the instrument's sound; if you're on a stage without nearby walls, you might need amplification; if you're on a stage with a choir shell behind you, you may find yourself playing inside a great-sounding megaphone; but hotel meeting rooms are notorious for the way they can swallow the sound and make your instrument seem weak and dead. Listen for what effect each location has on the communication of your music, and never assume anything till you've checked it out!
Sometimes if I can get to the place early I'll have someone else play my dulcimer (even if they don't know how to --- and I tell them to play loudly) while I walk around the room to hear the sound quality. This gives me a better idea of how I want to position myself and how I should adapt my hammer technique to make the room work best --- sometimes playing more forcefully than I generally prefer, just to make sure the listeners are receiving the music I want them to. Communication is a major concern throughout our lives, isn't it? ("You know what I mean?" "Sure!" Really?)
Third, when we play with other musicians we need to think about how to make it possible for us to hear both ourselves and them, and for that to be the case for every player at the same time. We hammered dulcimer players tend to hear our own instrument the loudest, because it's close and loud and it aims the sounds at our ears; guitarists, though, play a quieter instrument that aims the sound away from them. So when I play with a guitarist I ask him to get close to me and point his guitar mostly toward me so I can hear it better, and I don't play as loudly as I do when soloing. We do sound checks before a performance even if there's no sound system, just to make sure what we hear of each other in that particular acoustical environment.
Lastly, different hammers create very different effects. Every single set of hammers is different in some way from all the others; a single-sided bare maple hammer forms a different radiance in the tone of your instrument than a double-sided one, and the softer side of that double one is remarkably different yet. My personal (and somewhat unusual) preference is to use the soft suede side the most, not just to use it for a soft sound but rather to have a more piano-like potential for range of tone as I get much louder and quieter in a piece --- there's an intriguing nuance to the sonic characteristics. But I may change my mind about the hammer surface if the room seems to require a different tone or volume.
Another kind of hammer needs to be looked at as well: the flexible ones! For several years I played a few pairs of Sam Rizzetta's custom carbon fiber hammers almost all of the time because of the exquisite midrange resonance they would bring out in the mahogany of my dulcimer; but since I play with so much motion I got tired of constantly fighting my own arms to keep them from making the hammers go out of control (mainly in timing), and they actually were so much louder than the stiff hammers that people in casual settings couldn't handle the volume much of the time.
These have been my own observations as I play hundreds of times a year, and yours may differ for one reason or another --- but I urge you to make sure that you think about these issues in your own playing situations so your audiences have more of an opportunity to hear in their ears what you hear in your mind!