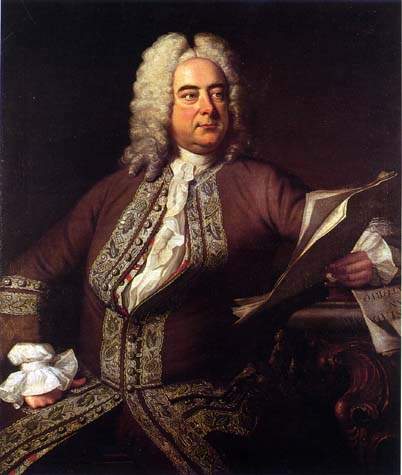 I don't think it can get better than this.
The apex of the Baroque period expressed itself in two German composers who are rightly wildly popular to this day, George Frederick Handel and Johann Sebastian Bach.
Both were born in 1685; both were the highest masters of choral and solo vocal works as well as orchestral dance tunes.
Both wrote stupendously complex and inspiring and lyrical fugues.
But perhaps their environments helped draw out their differences:
Handel moved to England when he was young and found his niche to be primarily writing operas such as Solomon and Xerxes. It was only when the genre temporarily went out of vogue that Handel needed to try something different --- an oratorio for a charity cause, using a libretto (text) of Scripture compiled by Charles Jennens, and he called it simply Messiah. In only about twenty-four days he was able to put together one of the most magnificent masterpieces of all time, and even called to a servant at one point to tell him that he had seen a vision of heaven as he wrote.
Handel fell out of favor with the king at one point and decided to impress him with a new set of dances for his entertainment; he rented a barge and floated it, full of musicians, along the Thames River adjacent to the king's barge, playing these new works called Water Music.
Bach, on the other hand, lived his whole life in Germany, and most of that time was spent as either a Lutheran church musician providing fresh music for each week's services or as the music director for a nobleman's chapel.
So Bach came up with a great quantity of cantatas, of which over 200 survive and are performed in our time. Much of his work is new settings for hymns in the Lutheran hymnal; for example, 'A Mighty Fortress' and 'Jesu, Joy of Man's Desiring' are elaborate and thrilling arrangements with a choir's direct singing of the hymn in the core of the piece.
He went beyond that and composed two of the greatest oratorios of all, the Passions According to St. Matthew and St. John and what many call the greatest mass of all, his Mass in B Minor --- even though his church didn't celebrate mass in the Catholic way!
Bach also wrote for the local coffeehouse where amateur musicians gathered to play. Once they hire him to come up with some new music for them to try, and the four Orchestral Suites were the result, including the famous Air 'On the G String'. One of the most sublime works of all time was just bread-and-butter hack work!
Bach also composed a wealth of works for solo instruments: keyboard (harpsichord or piano), organ, violin, and cello especially. Concertos for several different kinds of instruments are also among his many masterpieces.
As you listen to this music, make sure you don't let any particular prejudices color your perception too much; for example, I listen past the sound of some singing that isn't my favorite style to hear the overall beauty and structural dynamism and emotional power that is so perfectly developed and formed in the music behind it all. Let the music into your soul! Let the interweaving counterpoint and strong and sweet lyricism pour over you.
Can't be anything better!
George Frederick Handel (1685-1759): Overture,
'Worthy Is the Lamb/Amen' from Messiah, sung by Musica Sacra, directed by Richard Westenburg; the English Concert, directed by Trevor Pinnock; Thomas Beecham; etc.
George Frederick Handel: Largo from Xerxes, played by the Mantovani Orchestra
George Frederick Handel: 'Arrival of the Queen of Sheba' from Solomon, played by the English Concert, directed by Trevor Pinnock
George Frederick Handel: Water Music Suite, played by the English Concert, directed by Trevor Pinnock
Johann Sebastian Bach (1685-1750): 'Jesu, Joy of Man's Desiring' chorus from Cantata 147, performed by the Stuttgart Bach Collegium, directed by Helmuth Rilling
Johann Sebastian Bach: Air 'on the G String' from Orchestral Suite 3 ('Air' starts at 51:05), played by the Oregon Bach Festival Chamber Orchestra, directed by Helmuth Rilling
Johann Sebastian Bach: 'A Mighty Fortress' chorus from Cantata 80 (opening chorus), performed by the Stuttgart Bach Collegium, directed by Helmuth Rilling
Johann Sebastian Bach: Goldberg Variations, played by Glenn Gould (1950s version)
Johann Sebastian Bach: 'O Sacred Head Surrounded' from the St. Matthew Passion, performed by the Stuttgart Bach Collegium, directed by Helmuth Rilling

'Wir setzen uns mit Tränen nieder' (at 2:41:20) from the St. Matthew Passion, performed by the Stuttgart Bach Collegium, directed by Helmuth Rilling
Johann Sebastian Bach: Cello Suites 1 and
3, played by Yo-Yo Ma (1996)
Johann Sebastian Bach: 'Kyrie Eleison',
'Dona Nobis Pacem' from the Mass in B Minor, performed by the Stuttgart Bach Collegium, directed by Helmuth Rilling
Johann Sebastian Bach: Passacaglia and Fugue in C, played by E. Power Biggs
Johann Sebastian Bach: Keyboard Concertos 1-7 (no. 5 only, here), played by Glenn Gould with the Columbia Philharmonic Orchestra, directed by Leonard Bernstein (1) and Vladimir Golschmann
Johann Sebastian Bach: Toccata & Fugue in D Minor, played by E. Power Biggs
Johann Sebastian Bach: Brandenburg Concertos 1-6, played by the Orchestra of the Age of Enlightenment (The whole set is worth listening to if you can!)
Johann Sebastian Bach: Fantasia & Great Fugue in G Minor, played by Michel Chapuis
Johann Sebastian Bach: Partita 2 for solo violin, played by Arthur Grumiaux, and esp. Chaconne, played by Janine Jansen
Johann Sebastian Bach: 'Herr, unser Herrscher' from St. John Passion, performed by the Bach Collegium Stuttgart, directed by Helmuth Rilling
Johann Sebastian Bach: C Prelude (no. 1), played by Christopher Parkening, and
C minor Fugue (no. 2) from The Well-Tempered Clavier, Book I, played by Glenn Gould
Johann Sebastian Bach: Contrapunctus I and II from The Art of Fugue (II ends around 5:45 --- but can you stop?), played by the Emerson String Quartet