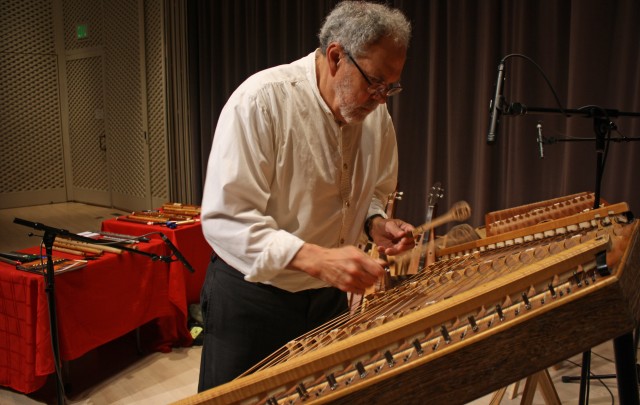 Do you know what the letters 'SATB' mean?
That's the shorthand for the common choir and hymnal arrangements in which there are four parts for the four ranges: soprano, alto, tenor, and bass.
What you usually see is the melody sung by the soprano on top of it all, and the undergirding bottom end nailed down by the bass, with the alto and tenor filling in harmonic motions to complete the fabric. So the outer voices, soprano and bass, tend to be thought of as the more 'essential' parts that folks should make sure are strong and emphasized.
On a piano that might mean that the highest and lowest notes of many pieces are important for that thematic framing effect.
When I play hammered dulcimer, especially when I have my hands separated in a piano-like way, I can feel those outer pitches calling for special notice and a special role.
HOWEVER, expressive artists can find themselves at key moments in a performance looking with joy at the interweaving of the inner voices: a thickening of texture that creates a thrilling give and take between the outer and the inner ranges. There are times that you can tell that the music will be better if the altos and tenors really lean into their parts in certain phrases or moments. Pianists may find themselves leaning on their thumbs for a tonal depth of color in the middle. One of my favorite Classical pianists who is great at this is Rudolf Serkin.
I feel that same thing on the hammered dulcimer, especially when I'm playing solo with separated hands. But at any time there's a motion toward the right side of the treble bridge, especially sort of 'colliding' from either side, you might want to put a special stress on that moment! It might just make the music come alive in a new way.
Here's an example in one of my arrangements, in which you can see the second and third notes of the harmony arpeggios in the right hand being leaned on at a number of strategic points, in a careful expressive interplay with stressed notes in the melody:
(Perhaps the spontaneity of the hammer strikes was enhanced by the fact that I was basically exploring the tune's new arrangement ideas in this video!)
And there are times that powerful rhythmic things can happen when the melody moves into a position just across the bridge from a harmony that's doing a different kind of rhythmic groove, as in this dizzying 12/4 juxtaposed 'Brian Boru's March:'
Finally, in my original composition 'Sycamore Rapids' you can see a whole variety of events in the middle, including rhythmic splashes between melody phrases, arpeggios growing toward the center, pentatonic melody lines approaching and moving away from mountain-dulcimer-like droning rhythms, etc.:
In your own playing, keep your ears open for opportunities to lean on the middle, and see what happens!