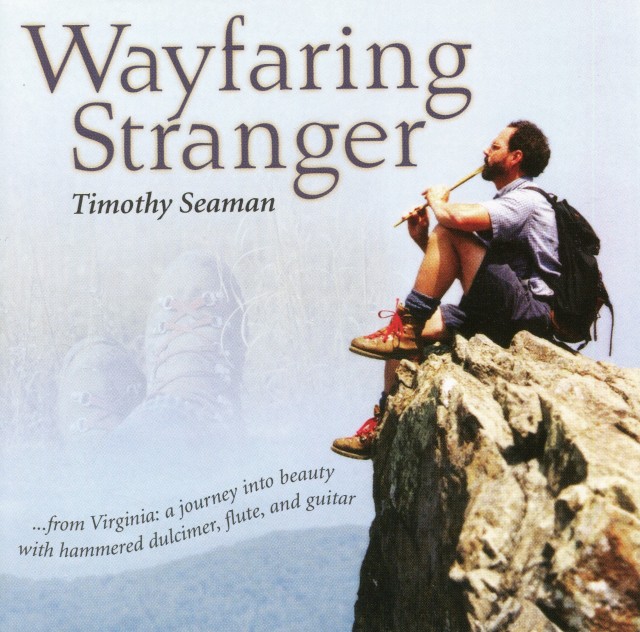 This is the first of a series of entries I plan to make in which I give a little historic information about our fifteen CD projects since 1994.
In 1978 I had the exciting experience of making a professional studio album in Nashville together with Hallett Hullinger and my wife Ro --- getting down for LP and cassette tape the music Hallett had written for our trio Springs of Joy. I contributed my vocal harmonies and flute improvisations, and Monty Matthews did excellent production. The recording engineer was Travis Turk. This introduction to authentic recording was a thrilling 'eureka moment' that colored all the rest of my ensuing life.
In 1990 I again got the opportunity to record in a major studio, this time the instrumental duet album Scratch the Sky with the late Chuck Haas, as our duet Midwinter Spring, and expertly produced by Tom Espinola at Bias Studios in Springfield, Virginia. The recording engineer was Bill McElroy. And in this project I was playing hammered dulcimer as well as flute, plus various other instruments such as bamboo flutes and bowed psaltery.
In the summer of 1994 I left a nineteen-year run of teaching in private schools and decided the time had come to try using my knowledge of the recording studio in my own solo production, and to see if people would like to hear music arranged and performed by only me, yet in full ensembles much of the time! I bought a pair of fine Audio Technica condenser microphones and borrowed various pieces of good recording equipment, and I spent a great deal of time all alone wearing headphones to produce the holiday cassette recording Incarnation for that Christmas season. And it was quite well received, so…
I began in January of 1995 to record, using the same equipment, a CD and cassette of a collection of some of my favorite music done in my own improvisational style, with the title Wayfaring Stranger --- after the name of one of the tunes.
As a Scots-Irish American I gravitated toward a number of Celtic pieces, done in a variety of moods and styles and with a substantial range of instrumentation: tracks such as 'Samhradh, Samhradh,' 'She's Like the Swallow,' 'Leaving Lismoore,' 'Ash Grove,' 'Pretty Saro,' 'The Arran Boat,' 'Skye Boat Song (Over the Sea to Skye),' 'Logan Water,' 'A Red, Red, Rose,' and 'Londonderry Air (Danny Boy).'
And there were some hymns and such, including 'Amazing Grace,' Bach's 'Jesu, Meine Freude,' 'Wade in the Water,' 'The Strife Is O'er,' and Israel's National Anthem 'Hatikvah.' (I had two different ideas for how to approach that last one: 1) stark dramatic dulcimer-based, and 2) flowing guitar and flute. I decided to do both, first one and then the other, and I'm glad I did!)
But I really wanted to be composing my own works as well, not just coming up with arrangements of existing pieces --- so along came 'Rowena's Waltz,' 'Timberline Wander,' and 'Mahogany Lilt,' and, sure enough, I found I could compose! During the time of this recording I was in the midst of taking valuable composition lessons from a master, Aldo Forte, at Christopher Newport University, and this was a perfect forum for bringing some out!
In keeping with the title's theme, I added yet another tune that had always had a joyful place in my heart, 'The Happy Wanderer,' and…
After a full six months of hard work the project was finally completed! I'll spend another blog post sometime discussing the reasons recording projects can often be enormous time-consuming, agonizing tasks. If your heart is really in them, that is!
This time I decided to bring in a few other musicians on some parts of the project, and Phillip Skeens thus added his marvelous guitar artistry to two of the medleys, Paulette Murphy did improvisational wonders in her piano response to the Bach motet theme, and my wife Ro sang one quiet verse of the Welsh air 'Ash Grove.'
I was in the midst of taking flute lessons --- the only flute lessons of my lifetime --- at Christopher Newport University, with the Virginia Symphony player Cindy Decker. That meant that this was an intensely focused time for my flute playing, and I still find some of the flute parts on this album to be the most well-done and well-voiced.
Because this project didn't have a conclusive theme, there was a fresh, free sense to my experimentation and exploration as I would first lay down a fundamental guitar or dulcimer track, then add one instrument after another to the ensemble in the other multi-track channels. These were simply pieces I wanted very much to record and to develop, and here I was getting to do that! Hurrah! But, boy, is this hard work.
For cover art I chose a photo of Vernal Falls I'd taken in Yosemite National Park in 1993 using a 1948 Exakta camera, one of the first single lens reflex cameras, and my brother Alan calligraphed the title: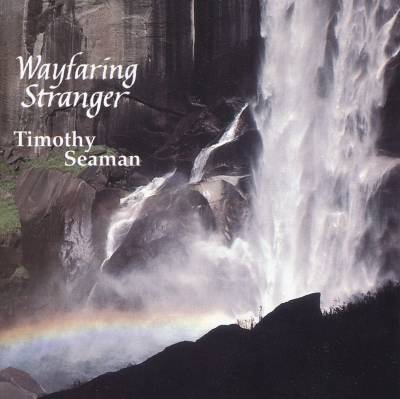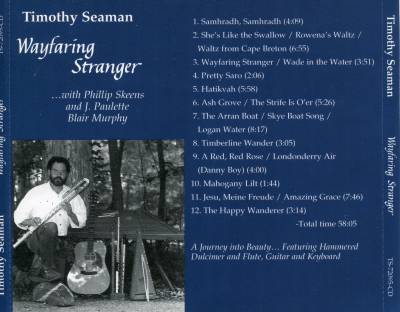 Six years later, in the fall of 2001, with Virginia now the adopted theme of my albums, I decided the cover art needed to be adapted as well, so our daughter Laurie took my portrait with a whistle on Stony Man Mountain in Shenandoah National Park for the new design, and I used the opportunity to re-record 'Timberline Wander' with my new extended-range dulcimer, and to newly record 'America the Beautiful' in my unique quasi-epic style. (Here I used a repeating pattern for a coda over which I did a twin improvisation on hammered dulcimer and flute --- one of my more favorite passages among my recordings!) The album art was masterfully laid out by my former fifth grade student Jonathan Hounshell (now a professor of fine art at East Tennessee).
And now in 2014 our tally shows over 8,000 copies of this title made; glad to know they're out there in folks' ears all over the world!
FYI, these are the instruments we used:
Hammered dulcimers (Dusty Strings D260, D600)
Flute (Gemeinhardt 3ssb)
Alto flute (Armstrong)
Bass flute (Emerson)
Bamboo flutes (Woodsong, Little River, Prince bansri, Suzhou)
Whistles (Howard, Susato)
Guitars (Martin Sigma D18, Martin M)
Bowed psaltery (James Jones)
Melodica (Hohner)
Keyboards (Roland, Ensoniq)
Voice
Here's a link to the album's page in this website; and here's an informal video of 'Timberline Wander:'