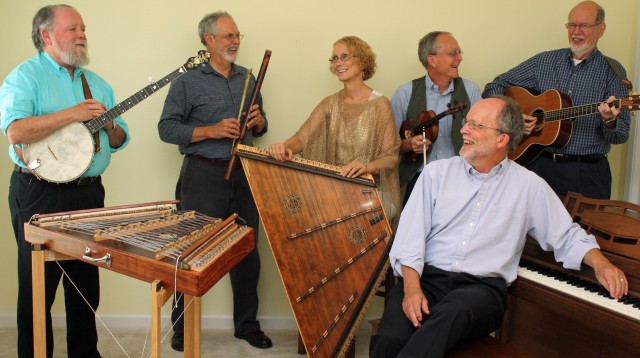 Although nowadays I play solo most of the time, I love to join with other musicians in ensembles when I can, and have a series of different groups planned throughout the rest of this year: church worship team, acoustic duets, trios, quartets, even an Old-Time/Celtic sextet! If you play with other musicians, you need to make many decisions about how each player's role fits into the overall picture.
I as an improviser tend to look for ways I can come up with special countermelodies and textural enhancements --- as well as creative, meaningful interpretations of the melody when it's my turn to play lead, or improvisational breaks when called for.
A number of years ago I "brainstormed" a list of topics to consider when you're a part of a musical ensemble. Here it is for your consideration and use:
I. Goals
For songs

Of the ensemble

Of each instrument's voice
II. Music genres
Celtic only?

Classical?

Old-time?

Variety?
II. Audience
Who are they?

What are their expectations or needs?
IV. Keys
Choice for each piece

Changing keys
V. Moving through time
Speed issues:
How fast a particular song should be

Speed changes from song to song

Speed changes within the same song
Pulse:
Rubato?

Steady beat?

Move between rubato & steady?

Lilting or even pulse?
Rhythm:
Quaint

Contemporary

Romantic

Driving
Phrasing: notes as parts of sentences
VI. Various other arrangement choices
Variety
Place allowed for virtuosity, personality
Place allowed for improvisation
Complexity:
Simple vs. complex chords

Many vs. few chord changes
Mood:
Quaint, simple, fun

Dramatic, narrative
Exchangeability among ensembles: Common repertoire and ideas that trios, duets, etc. of colleagues can adapt
Medleys:
Similar pieces

Different pieces
Length
Time allowed for rehearsal
Instrumentation:
Tradeoffs of lead instruments

Dropping out, joining in

Solo sections

Cumulative start
Dynamics:
Even volume

Broad changes
Textures to blend:
Plucked

Hammered

Bowed

Blown

Percussive
Beginnings
Endings
Varying melody
Accompaniment parts:
Arpeggios

Broken chords

Full chords

Bass notes

Pads

Counterpoint
Cues: Beginning, middle, end
VII. Repertoire choices
Copyrights

Writing new songs

Teaching songs to each other

Accepting each other's input
VIII. Performance choices
Concert:
Talk with audience

Level of formality

Level of programming
Background music
Venue acoustics
Sound systems
...Perhaps a glance over this list will bring an idea to your mind that will be a help for whatever setting you're a part of. In some ways this is pretty comprehensive, but in other ways this contains just germs of ideas about part of each topic. Use it as you will. Blessings on your music-making!