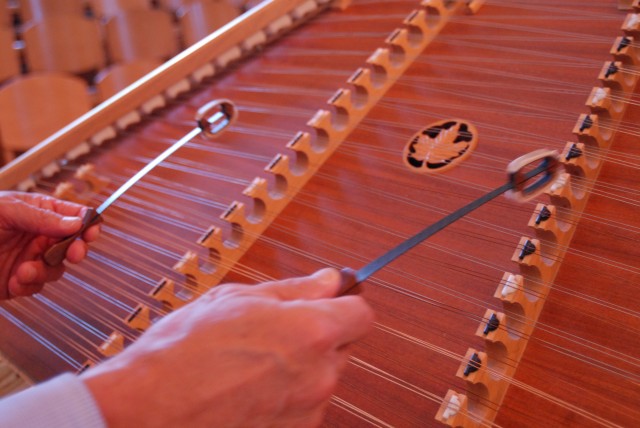 The third and final installment of our series of ideas for hammered dulcimer arrangement of simple tunes brings up yet more significant challenges, but all of these are extremely useful if you want to make your music really sing!
Numbers 16 and 17 take a bit more focus and practice, but when you develop them you'll find that in the resulting effect 'the whole is greater than the sum of the parts!'
Numbers 13 to 15 involve fine details that can be incorporated in anything you play, even spontaneously in the moment; they're part of a constant quest in the greater search for musicality.
13. Rhythmic accents -- 1) lilting, as in 'Golden Slippers' you could bounce along long-short-long-short ('swing rhythm' --- a quick 8th note – 16th note type of pattern) rather than every note the same length; 2) make certain notes more (or less) emphasized than the others --- louder or softer --- a very significant improvement on the overall 'voice' of the music. Some less-emphasized notes can even be tantalizingly 'invisible' in the course of a phrase.
14. Grace notes -- anticipating an upcoming melody note by playing any scale note the instant before it (rather than exactly between or simultaneously with melody notes). Perhaps the most common are a fifth below or a pitch right next to the melody note, but you can try any note for the effect you want. A double grace note can be any combination of notes, but one common 'twiddly' one is a mordent, a quick G-A-G or G-B-G (with the latter G being the melody note).
15. Dynamic changes -- great changes in volume -- which add much character to a song! 1) a swell is a quick, passing loud passage over the course of a few notes, building up and then down again; 2) a melody -- or a section of a melody -- may be played loudly first, then extremely quietly, or vice versa; 3) often a whole song is at its best when there are subtle changes throughout --- expressive like a good singer's phrasing of the message. (It's important to remember to keep command of the speed as you are making changes in volume --- all aspects working together to meet your goals for the piece.)
16. Descending bass -- two types: 1) a slowly descending combination of bass notes as the chord progression moves along, similarly to a guitar bass line; 2) a short 'walk-down' like the classic one in some versions of 'Amazing Grace' or 'Home on the Range': as the last note (in G) is ringing, the right hand plays C-B-A-G.
17. Separated hands -- as in the popular 'St. Basil's Hymn' arrangement by Malcolm Dalglish, separating the melody to play it only with the left hand and accompanying it with chording patterns in the right hand. The easiest method is to pick a simple tune with a simple chord pattern, and suggest the chords by going back and forth with the right hand between, say, a lower unmarked course on the right of the treble bridge and the lower unmarked course across from it on the bass bridge. This is actually sort of a slowed-down variation of the flam technique. Three-note chords can be developed in triangular shapes or walking straight up the bass bridge for a beautiful piano-like effect: This is very much worth working on! (See my 2013-2014 articles in Dulcimer Players News on a stylized method of doing this, using 'Mary Had a Little Lamb' and 'When the Saints Go Marching In,' for specific ideas; then more complex versions of 'Star of the County Down' and 'Loch Lomond'.)
Everything in this list of seventeen ideas has played a solid role in my own explorations of tunes on the dulcimer. May your own unique playing benefit from something or other here. Go for it!