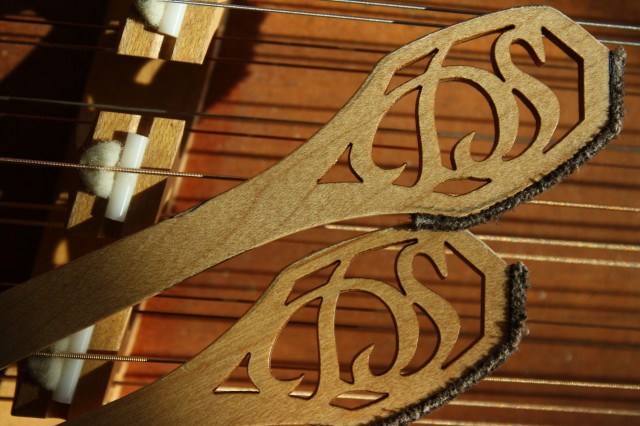 Most hammered dulcimer players seem to prefer using the bare wooden surfaces of hammers to get a clear, brilliant sound, and occasionally the suede side can add a soft sound for contrast.
My personal taste says that the suede side of a double-sided hammer has more potential than merely making a soft or mysterious sound, but, like a piano, it can express a full range of tone as the player articulates phrases using dramatic body language.
(The actual appearance of the body language varies greatly from player to player in relation to certain effects. More on that in a future blog post!)
I listen a great deal to my favorite Classical and jazz pianists --- Arthur Rubinstein, Paul Sullivan, Rudolf Serkin, Bill Evans, Martha Argerich, Glenn Gould --- and I can hear an amazing range of tonal expression in each of their hammering approaches, and I try to absorb something of that and reapply it in my own hammered dulcimer playing with suede, always listening for the tone's effect.
When you strike softly, the tone is mellow and intriguing; when you strike emphatically, it has a different effect, dramatically expressing a bold and personal statement much like a piano's hammer would do. The overtone series shifts as it's produced by different kinds of strikes.
This holds true for various other softer hammer surfaces too, such as the thin leather or Dr. Scholl's Moleskin Plus on Sam Rizzetta's flexible hammers.
And it applies both to slow laments and sweet airs, as well as to startling drama and sprightly melodies for dancing.
Here are a couple of examples of this approach, the Irish air 'Planxty Irwin' and the Irish dance tune 'Scully's Reel' --- a Romantic way of throwing these great melodies out from the soul: