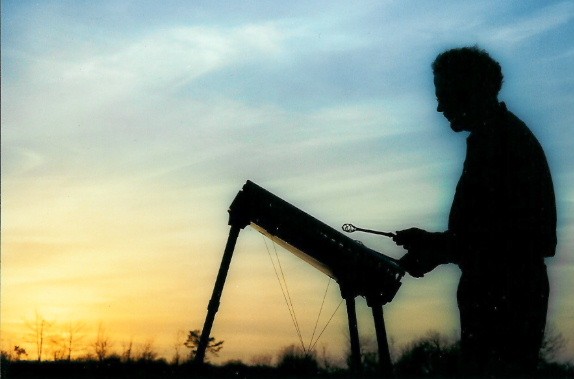 In music the French word 'motif' simply means a group of notes that you use to start a musical composition and to refer to throughout the composition for unity. That's all!
Maybe the most famous example of a motif is the set of theme notes of Beethoven's Fifth Symphony: 'Di-di-di-dah' (used in the Second World War as Morse Code for 'V' for victory) --- and if you listen to that matchless symphony you can hear Beethoven developing an entire movement --- with references throughout the rest of the whole work --- from that simple set of three notes, G-G-G-Eb (in the key of C minor).
Well, we don't need to have the genius of Beethoven to use motifs for making up music! For example, I sit down with a mountain dulcimer and play the simple children's folk tune 'Go Tell Aunt Rhody' then start exploring variations of the melody for several minutes, and it becomes an almost 'epic' piece built on a juvenile set of notes. It's not all that hard --- try it! (Or how about 'Mary Had a Little Lamb'?)
One helpful practice while exploring out from a basic melody like this is to keep the simple tune going in your head while you purposely break away from it with your instrument. It's sort of like playing an improvisational 'duet' with the tune that's going in your head. (Again, this is a technique you may find easier than you think! If you are already used to keeping a steady beat by yourself, you're probably in the habit of doing a 'duet' with a rhythm section in your head.)
I like to choose a series of notes and have it stand for something, and, although the listener doesn't know what the notes stand for till I tell them, I can have the subject in mind as I explore ideas of developing the musical piece.
For example, when I was working on the National Parks suite to be called Such a Gift in 1995, my composition teacher Aldo Forte suggested that I have unifying thematic motifs that imbue the entire work with significance, and I came to my lesson one day and he asked me if I had a 'God' theme to match my goal of honoring the Creator of the natural world, and he suggested a series of notes I'd been using: 'Let's see, what are those notes? A-B-B-A?' And we both had this 'wow' moment realizing that the notes happened to spell an Aramaic name for God, which means "Daddy'!
Another pattern of notes I just liked was the 'so-mi' interval, from the fifth note of the scale to the third note of the scale, and I somewhat intuitively chose those to be my 'National Parks Nature' motif. Thus when I was coming up with ideas for a melody or structure I would keep that in mind as well as the A-B-B-A motif. And I found that it's amazing how combining simple, seemingly random musical ideas, can lead to authentic composition. You've got to try this!
Two pieces I wrote during that period became special representations of Shenandoah National Park, for whom I eventually recorded an album over the next couple of years, Here on this Ridge. The following videos are informal performances of the result of this motif-developing process.
In 'Spring in the Gap' I wanted to make a banjo-like tune that had the mixolydian nature of 'Old Joe Clark' but uniquely fit the theme of the album --- and in the recording you'll hear, very clearly, I hope, the A-B-B-A pattern (5-6-6-5) at the very beginning, followed later by the 'so-mi' (5-3) pattern upside down ('mi-so', 3-5) and in its normal 5-3 form at the beginning of the second section. That's exactly how this piece came to be!
And in 'Hazel River' I reversed the chronological order of the two motifs: first the 'so-mi' in the main melody, then a variant reference to A-B-B-A, then I moved on with other ideas that came to mind (and to hammers!) as I explored at the instrument.
I hope this concept will inspire you to experiment with groups of notes and apply them to your own thematic goals. We can make music of our own!
http://youtu.be/KY8iGFQPlrQ
Basic sheet music of 'Spring in the Gap':