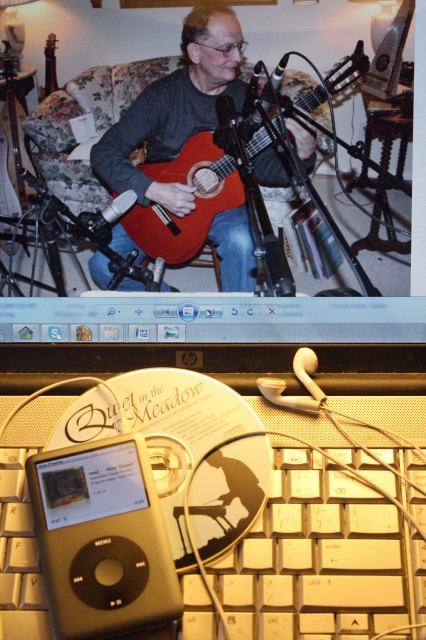 Did you know that there's a real digital difference between CDs and downloads?
I've talked with quite a few people, including musicians, even including recording artists, who haven't been told that there's a difference. So let me give you some info about it if you want it!
About a decade ago, in 2004 and later, I think, there was a lot of talk in the audio world of the demise of the CD format as the DVD would be taking over with its higher resolution of sound quality. This was because CDs with their 16-bit wave files (with the designation '.wav') weren't as great sounding as DVDs with their massive wave file capabilities of 24 bits of digital sound resolution --- wow! All the studio recording systems had been operating at 24 bits, mine included, and we had to 'dither' the data down to 16 bits to get them onto CDs for production, but we were told we wouldn't be dithering in the future but making DVD audio masters instead. Well…
How many audio DVDs have you been listening to recently?
The predictions were totally wrong! The world's music listening public instead got all excited about downloading .mp3 files from iTunes, Amazon, and many other download websites, so they could put them on their .mp3 players, pads, laptops, etc. And they were 'ripping' their CDs into .mp3 form to use in the same way.
The convenience is just marvelous! I love the way I can set up any playlist I want in my iPod, from my huge collection of downloaded and ripped tracks. But…
Did you know that .mp3s are vastly lower audio quality than .wav files? They sound really good, but they are simply much less good-sounding than CD files. (Forget the promise of amazingly high DVD quality --- hardly a soul was interested, because… there was great convenience elsewhere!)
How much lower is that quality? Well, here's a comparison that gives us an idea: You can only fit 80 minutes of the usual audio on one CD because that's all the track data it can hold, but you can fit hundreds of .mp3 audio tracks on a CD, totaling quite a few hours of music, because .mp3s use digital compression of much smaller amounts of data registering the details of the sounds. And, in a file listing in your computer audio program, take a look at the MB (megabyte) numbers at the right: huge difference! Also, try to e-mail a .wav file to someone --- can't be done, it's just too big.
.Mp3s' quality levels are categorized by how much digital data converts into actual sounds in each second; most standard downloads are somewhere in the range of 256 kbps (kilobytes per second). Those files sound pretty good at that level, don't they? But they still don't have the roundness and depth and richness of tone that CD sounds do. You might do a 'side-by-side experiment' and play one and then the other if you have both, and listen for the contrast, especially in the low and high frequencies, such as in the bass and the high strings. To do this you can insert a CD into your computer and 'rip' ('import') a track in .wav form, then rip it again in .mp3. Hear anything different?
By the way, .mp3s have a number of different levels of resolution, from 64 kbps up to 320 kbps. Then there are other file types in the same category such as .wma and .aac (different companies' versions). In your computer importing/ripping menu they give choices for all these. Or if you use an editing program like Audacity, it gives you the option of choosing what resolution in which to export the new file.
The convenience is a wonderful thing, but it's good to at least understand that there is a quality difference out there. Now, if I record another album, I will still record it at DVD quality, then dither on down from there for the different purposes. I want to make sure I have that original quality! And you may too, for your listening pleasure.
Just thought I'd bring it up.