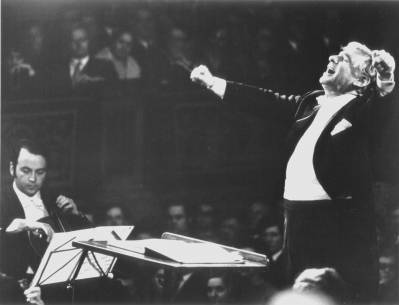 In the middle of the Eighteenth Century a new phenomenon arose in serious music: the 'sonata form,' in which a melodic theme was introduced, then developed, then recapitulated, then brought to a special conclusion, all done over a significant amount of time. This differed from earlier 'folk tune' or 'fugal' approaches to musical structure.
Soon people such as Joseph Haydn began to apply this principle to the full orchestra, and it came quickly to be known specifically as the 'Symphony.' Since that time there has been a continuous tradition of making long works follow, for the most part, a four-movement form in which the Sonata Form is used creatively in at least the first movement. A truly magnificent thing!
Since I was a little kid I have been fascinated, intrigued, and moved by this amazing development pattern, especially in certain symphonies and in certain notable recordings of them. It's influenced the form of many of my own compositions and arrangements, no matter the genre.
Here's a list of my personal favorites among the vast repertoire of Classical symphonies, from the middle of Haydn's vast output to the last part (pun intended --- see below) of the Twentieth Century. I've decided to make the list roughly chronological, based on the birth year of each of the composers I've chosen.
The periods progress through time from Classical to Romantic to Modern to Minimalist; there's a great range of complexity and order within those centuries, yet there's also a marvelous degree of greatness within each, I think.
The dividing line between the ones I want to include and those not included has been an interesting and excruciating task! So to soften that dilemma I also made the decision to put an *asterisk in front of the ones I think you really ought to notice among these for one reason or another (the main reason being my own thrill in listening to them) --- so this is really two lists, the starred ones and the non-starred ones --- yet still this has been a tough call!
You may notice that I star quite a few of certain composers, who, yes, are among my personal favorites! (I think that in the Twentieth Century my very favorite is Shostakovich, who somehow was able to use a very traditional form in a way that reflected the full range of the human condition astoundingly in the context of Soviet oppression. Wow!)
Why did I not include certain composers or symphonies? Well, there's a real reason for each one, but the details are way beyond the scope of this blog post. I'd love to hear your comments about that, though.
For each I've included a recommendation of a great performance that's been recorded, which seems to deeply delve into the meaning behind the piece, the musical structure, the movement through time, the emotional presence of it, etc. --- again a formidable task, but a true labor of love!
Now in August of 2018 I'm adding Youtube links to the starred recordings I've referenced! Most of the links are to the entire symphony's performance; but some Youtube posts are only in the form of separate movements from the CD tracks, so for those ones I've linked to the beginning movement, and you'll have to find the rest of the movements in Youtube yourself. (They should all be there.)
I hope this list can be a reference for some of you who would like to consider more of the great Classical music; and, for others who are more familiar with these pieces, I hope this can create an analytical trove for you! I'd like to hear your comments on these choices.
Joseph Haydn (1732-1809)
No. 45 'Farewell' --- Pinnock/English Concert
No. 49 'Passione' --- Pinnock/English Concert
No. 92 'Oxford' --- Szell/Cleveland
No. 93 --- Szell/Cleveland
*No. 94 'Surprise' --- Szell/Cleveland
No. 95 --- Szell/Cleveland
No. 96 'Miracle' --- Szell/Cleveland
No. 99 --- Szell/Cleveland
Wolfgang Amadeus Mozart (1756-1791)
*No. 35 'Haffner' --- Szell/Cleveland
No. 39 --- Szell/Cleveland
No. 41 'Jupiter' --- Szell/Cleveland
Ludwig van Beethoven (1770-1827)
No. 1 --- Szell/Cleveland
No. 2 --- Szell/Cleveland
*No. 3 'Eroica' --- Szell/Cleveland
No. 4 --- Szell/Cleveland
*No. 6 'Pastoral' --- Szell/Cleveland
No. 8 --- Szell/Cleveland
*No. 9 'Choral' --- Szell/Cleveland
Franz Schubert (1797-1828)
No. 5 --- Beecham/Royal Philharmonic
*No. 7 (8) 'Unfinished' --- Szell/Cleveland
No. 8 (9) 'The Great' --- Szell/Cleveland
Felix Mendelssohn (1809-1847)
No. 1 --- Karajan/Berlin

*No. 3 'Scottish' --- Bernstein/New York
*No. 4 'Italian' --- Szell/Cleveland
*No. 5 'Reformation' --- Bernstein/New York
Robert Schumann (1810-1856)
No. 1 --- Szell/Cleveland
*No. 3 'Rhenish' --- Szell/Cleveland
No. 4 --- Szell/Cleveland
Anton Bruckner (1824-1896)
No. 1 --- Solti/Chicago
No. 2 --- Karajan/Berlin
*No. 4 'Romantic' --- Furtwangler/Berlin
*No. 5 --- Haitink/Royal Concertgebouw
No. 6 --- Stein/Vienna
Johannes Brahms (1833-1897)
Camille Saint-Saens (1835-1921)
No. 3 'Organ' --- Bernstein/New York
Pyotr Ilyich Tchaikovsky (1840-1893)
*No. 6 'Pathetique' --- Szell/Cleveland (Youtube only)
Antonin Dvorak (1841-1904)
*No. 9 'From the New World' --- Szell/Cleveland
Nicolai Rimsky-Korsakov (1844-1908)
*Scheherazade --- Bernstein/New York
Gustav Mahler (1860-1911)
No. 1 'Titan' --- Bernstein/New York
No. 2 'Resurrection' --- Walter/Columbia
No. 4 --- Szell/Cleveland
No. 6 'Tragic' --- Szell/Cleveland
Richard Strauss (1864-1949)
Ein Alpensinfonie --- Thielemann/Vienna
Jean Sibelius (1865-1957)
No. 2 --- Bernstein/New York
Ralph Vaughan Williams (1872-1958)
No. 5 --- Boult/London
Sergei Rachmaninoff (1873-1943)
No. 2 --- Maazel/Berlin
Bela Bartok (1881-1945)
Concerto for Orchestra --- Reiner/Chicago
Igor Stravinsky (1882-1971)
Symphony in C --- C. Davis/London
Symphony in Three Movements --- C. Davis/London
Symphonies for Winds --- De Waart/Netherlands
Sergei Prokofiev (1891-1953)
No. 1 'Classical' --- Martinon/ORTF
No. 5 --- Martinon/ORTF
Aaron Copland (1900-1990)
No. 3 --- Bernstein/New York
Dmitri Shostakovich (1906-1975)
*No. 6 --- Mravinsky/Leningrad
*No. 7 'Leningrad' --- Bernstein/New York
*No. 8 --- Mravinsky/Leningrad
No. 9 --- Bernstein/New York
No. 10 --- Mravinsky/Leningrad
No. 11 --- Mravinsky/Leningrad
Benjamin Britten (1913-1976)
Sinfonia da Requiem --- Previn/Chicago
Leonard Bernstein (1918-1990)
No. 1 'Jeremiah' --- Bernstein/Israel
Henryk Gorecki (1933-2010)
No. 3 'Symphony of Sorrowful Songs' --- Zinman/London Sinfonietta
Arvo Part (b. 1935)
No. 3 --- N. Jarvi/Gothenburg
Philip Glass (b. 1937)
No. 1 'Low' --- Davies/Brooklyn
No. 2 --- Alsop/Bounemouth
No. 3 --- Alsop/Bournemouth
No. 4 'Heroes' --- Alsop/Bournemouth